Best-selling Mother's Day pop up card collection
Mother's Day is a day to express all the gratitude, joy and thanks to moms. Among many gifts, Mother's day pop up card is an indispensable one on every holiday. A card may not be able to translate deeper feelings or replace a genuine smile or warm hug. However, it can transmit what is on your mind that you are too shy or that it's too awkward and cheesy to be said face to face. What makes gifting cards special is the one who is sending them is to  take their time, effort and expense to show someone they care. If you are planning to steal your mom's heart on this occasion, a bouquet of fresh flowers including a greeting card is always the best choice for you. However, sending flat cards is quite easy, convenient, and common. Try a handmade Mother's Day pop up card, it will hit different. Here we got some pop-up card ideas for you. Let's check it out.
When it comes to Mother's Day, it is so wrong not to mention our Best Mom ever pop-up card. It is featured with three colorful designed and stylized words "BEST MOM EVER" decorated with butterflies and mixed flowers. When it is opened, the details inside will spring out. We put all our effort on even the smallest detail making the 3D sculpture look lively as much as possible.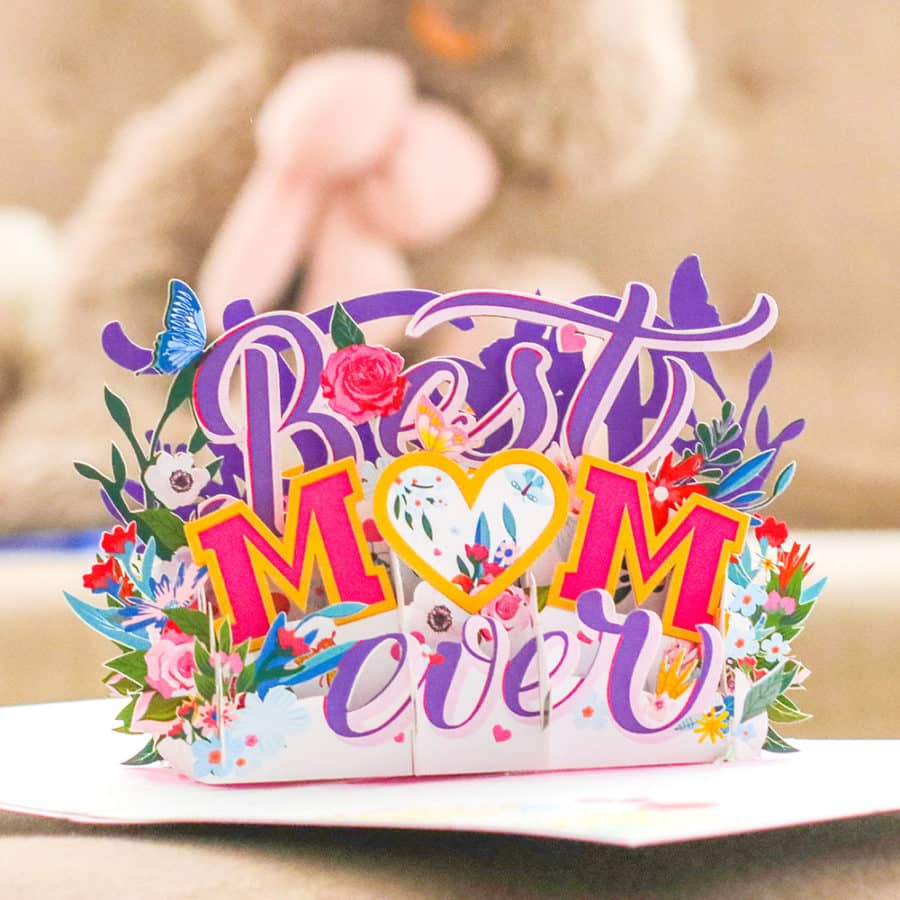 Butterflies are one of the most beautiful and mysterious creatures on the Earth. Blue is the freshest and warmest color. Therefore, blue butterflies are considered as a sign of love, joy and happiness. With this inspiration in mind, we came up with an idea of a Blue Butterflies pop up card. Similarly, a laser-cut flock of butterflies will pop up on the center of white background when you open the card. Sometimes only a well-designed Mother's Day pop up card will make your mother day.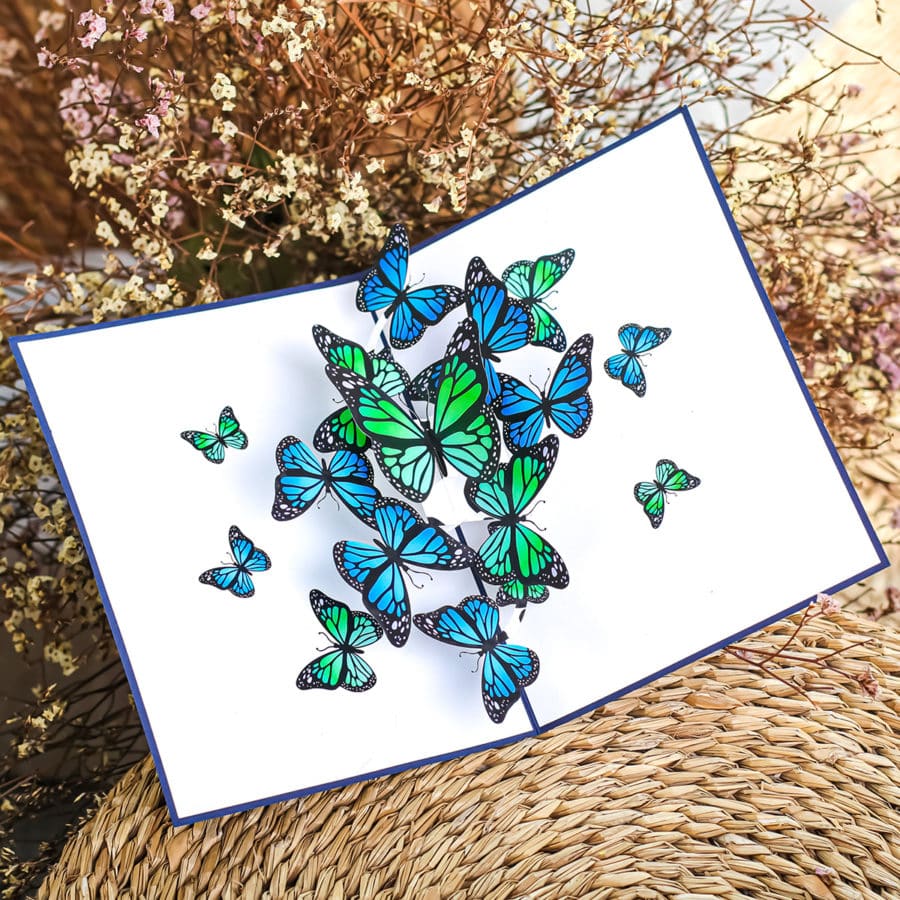 This butterfly pop up card is one of our best-sellers featuring vibrant multi-shade-of-pink butterflies fluttering around a cluster of fresh cauliflowers. The beautiful greeting card can be served as a great gift to you mom.
This stunning flower basket designed pop up card will be a perfect way to show your mother gratitude and love on this Mother's Day. Once you open the card, a wicker basket filled with vibrant colorful flowers will appear right in the center of the bright background. Moms are beautiful and unique. Just like flowers, each mom is different and pretty in such a unique way. This card is suitable for gifting to all moms on all occasions including Mother's Day.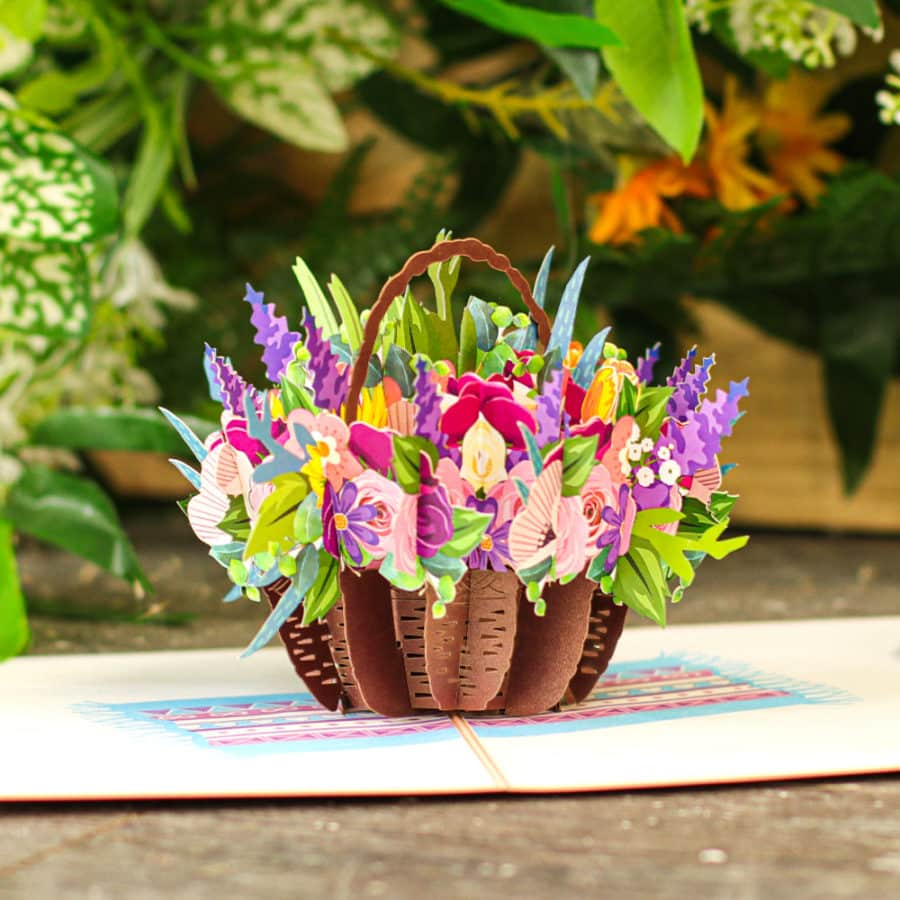 What makes peony a special choice for moms on Mother Day is that it is in season. This kind of flower only blooms during the spring making them a rare treat. Mother's Day 2022 falls on May 8, which is a perfect time for bloomed peonies. According to the languages of flowers, peonies embrace the power of a season just like a mother embracing the essence of generosity of a woman who gave us all her life. Surprise your mom this Mother's Day with our three-dimensional layers of laser-cut flowers to remind her of how special she is.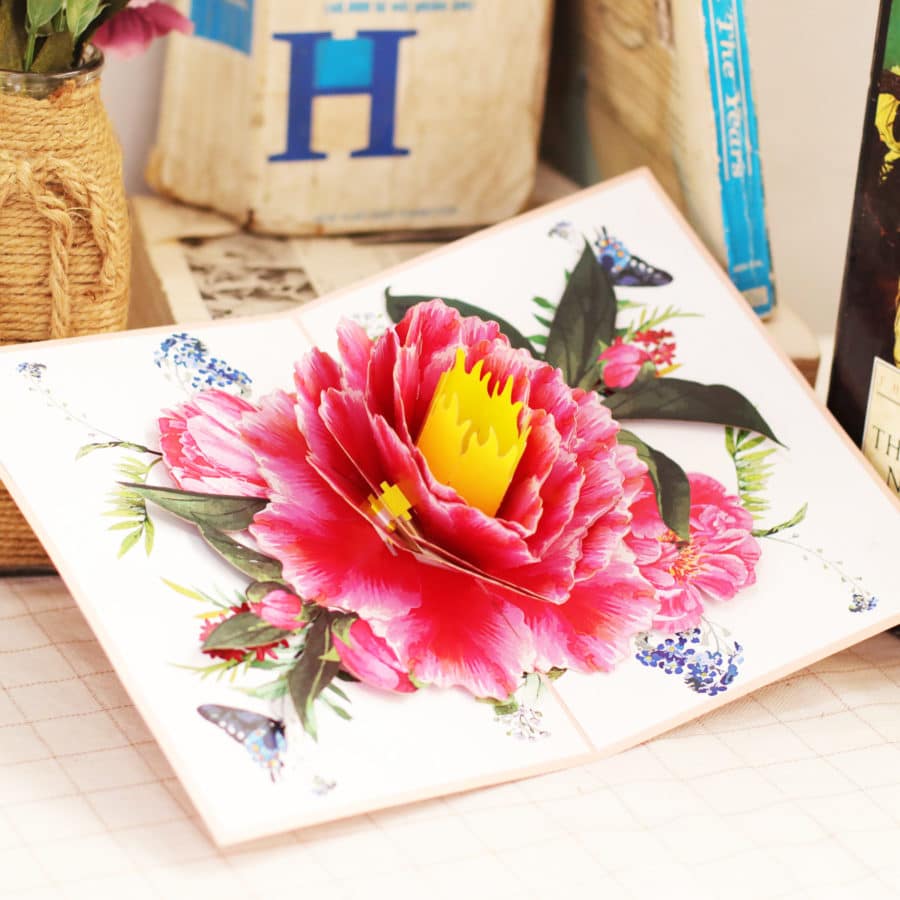 When talking about daisy, most people picture it as a white flower with bright yellow in the center. However, in this card, we bring out more versions of daisy to remind you how beautiful this kind of flower is. Daisy seems to be the simplest flower in the word but there are many meaningful things that set it out. White daisy is known for innocence and purity, especially associated with motherhood. Yellow symbolizes happiness and joy, pink for adoration, red for love and blue for trust. With the meaning in sight, Daisy Mother's Day pop up card is a perfect way for you to define your love and care for your mother.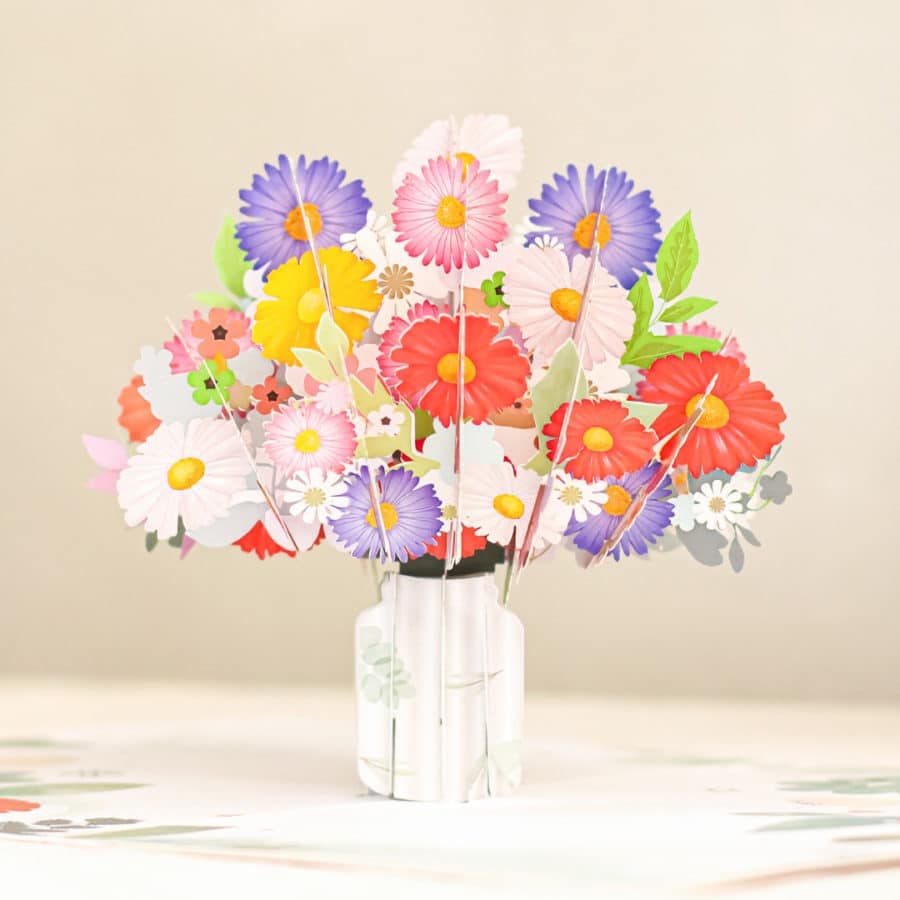 Another Daisy pop up cards for your Mother's Day gift ideas. This pop-up card is a simple but meaningful gift for any occasions: birthday or Mother's day. Give this handmade pop-up card to your family, friends to surprise them without a reason but only to tell them how much you care.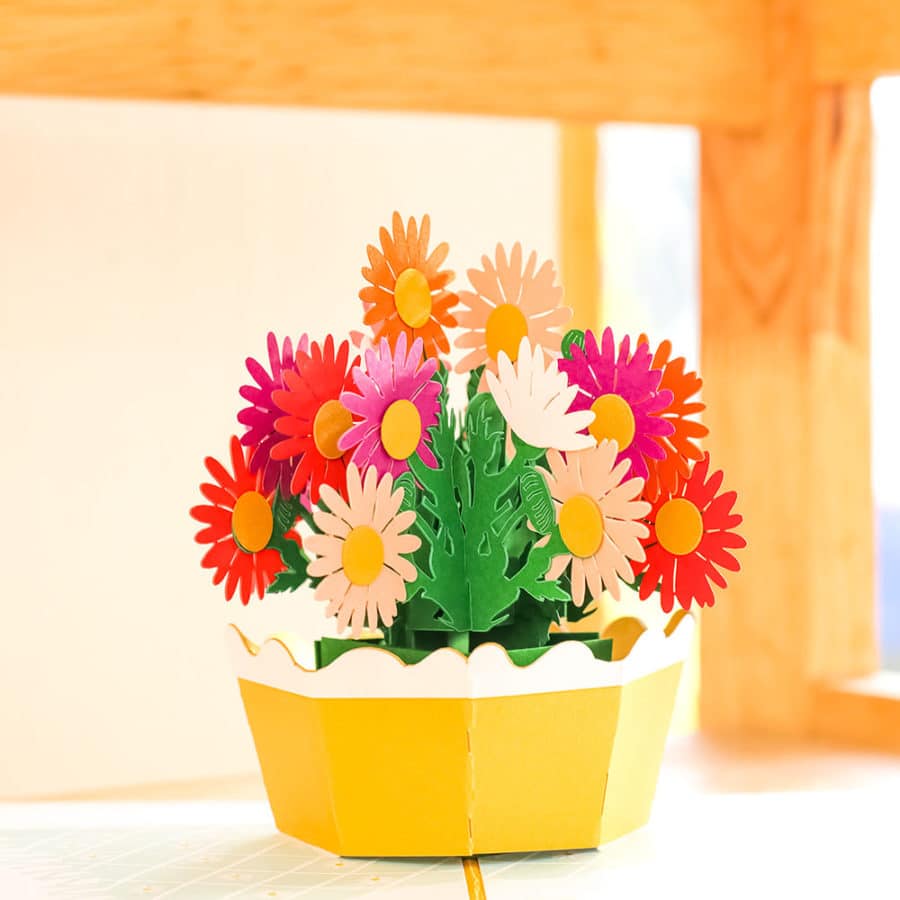 The lily has been well-known for its elegant and noble appearance. It not only symbolizes beauty and virtue but also pride and faithful love. Therefore, lilies are both suitable for mothers and lovers as well as any occasion. Taking this as (a) inspiration, we came up with the idea of 3D design to get you a new gift idea. If you're tired of seeking a suitable present for your mom, Lilies the valley pop up card might be a twist to her.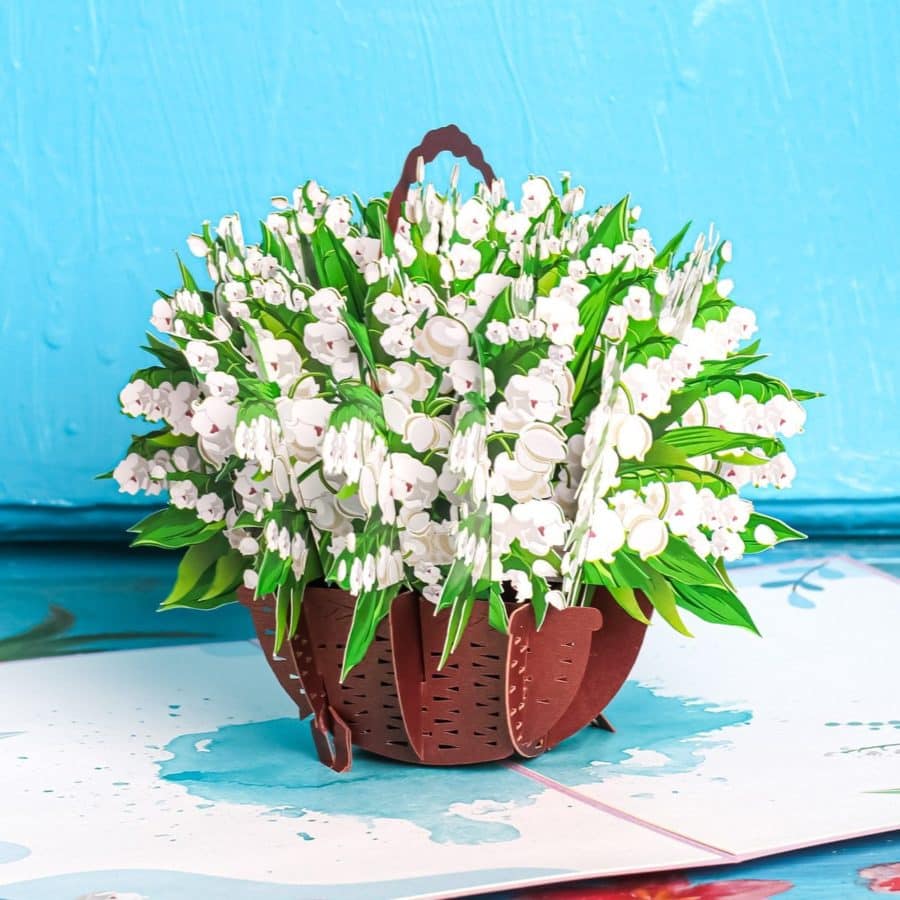 Roses are always associated with a burning, passionate love, or beautiful, seductive beauty. However, the rose is also known as a symbol of motherhood. A bouquet of roses for your mother on special holidays will help you with what you would like to say to "the one who gave birth". If you find it too common to give your mother a bouquet of fresh-cut roses, try our 3D Mother's Day pop up card. This unique and stunning design will cheer your mom up on her day. We always have blank space on each card so you can leave your message. Don't forget to write down something. Even only three words "I love you" means more than that.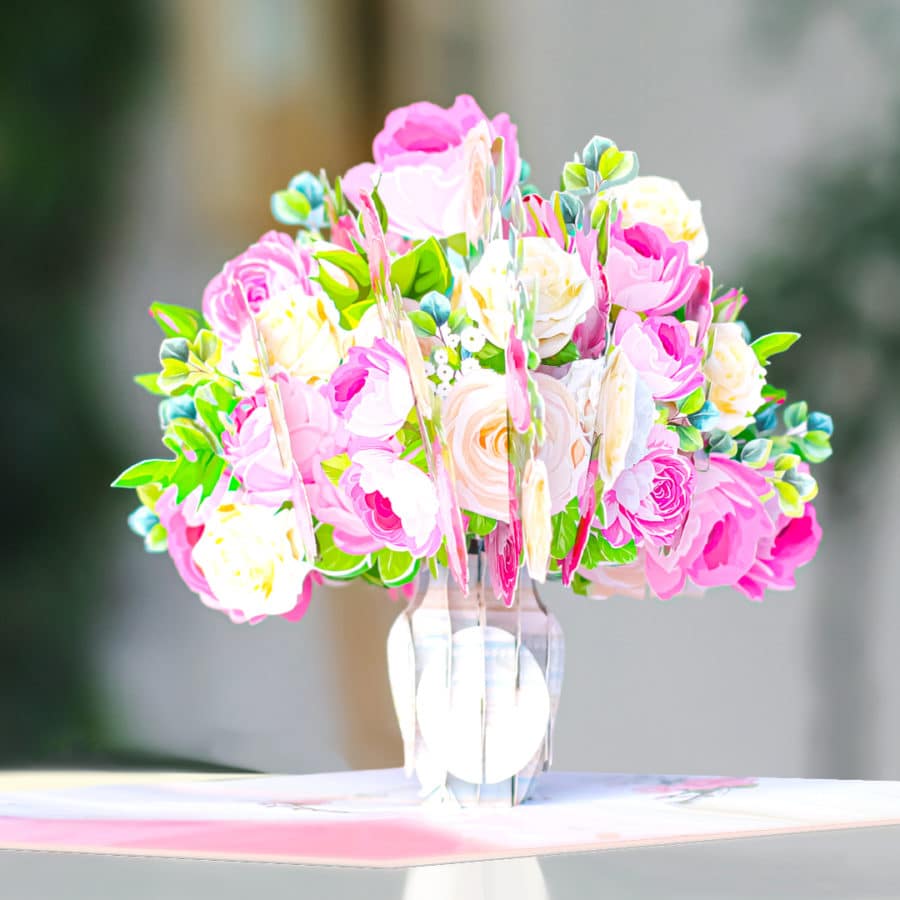 Sunflowers symbolize loyalty and longevity. Much of the sunflower's meaning comes from its name, which is the sun – an intense symbol of life… Additionally, Sunflowers are known to be the flower of happiness among Jews, making them the perfect gift to bring joy to someone's special day. A bouquet of bright and cheerful sunflowers sends a message of admiration and respect. Giving your mother a bunch of sunflowers, also means thank you for the silent sacrifices that your mother has made for you, or as the implication "You are my sunshine". Don't forget that sunflower is always in our floral Mother's Day pop up card!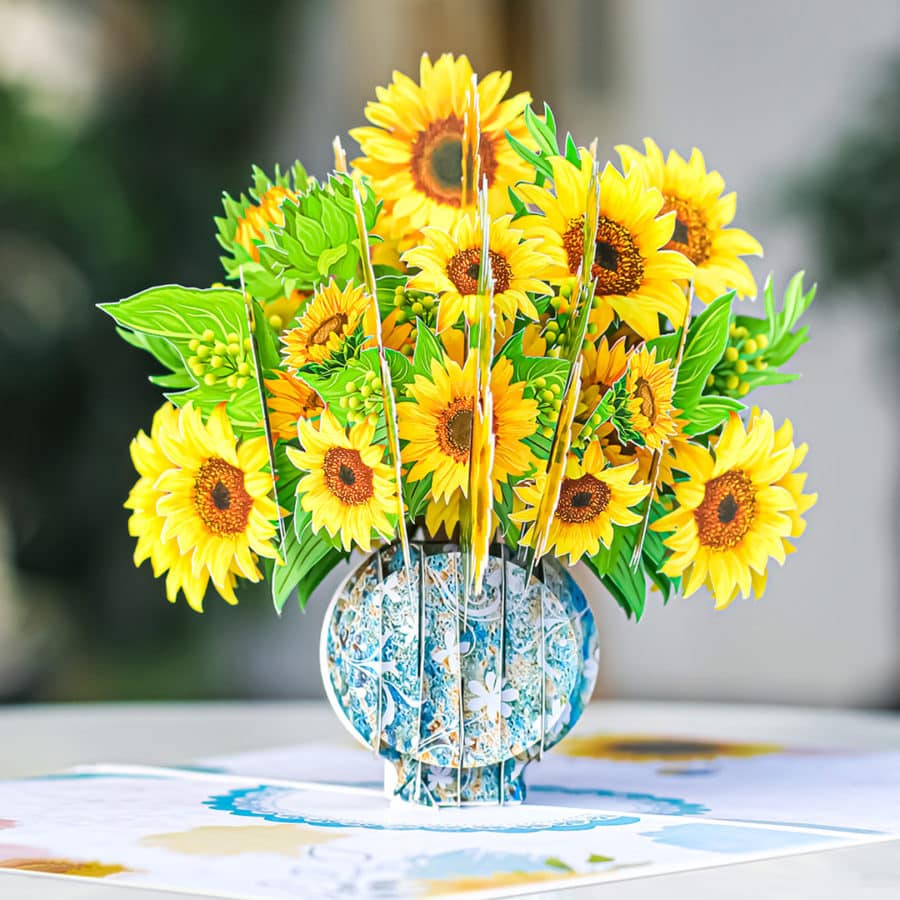 CONTACT US!