If you are looking for things that can bring a smile to mom's face, you'll never go wrong with a Mother's Day pop up flower card. Obviously, flowers—things considered the most charming and meaningful in the world – are always associated with happiness, love, beauty, and joy. Therefore, a card with flowers popping out of it is the best gift ever, we promise. Here are our 5 best Mother's Day pop up flower cards that you can check out:
1. Mixed Flowers and Hummingbird – Mother's Day Pop Up Flower Card
With intricate flower patterns and a lively hummingbird flying around, this Mother's Day pop-up flower card would certainly bring a "Wow" to your mom. A cluster of flowers in dreamy purple and a colorful hummingbird could make her feel immersed in the beautiful scenery of wild nature. This card is the best expression of gratitude, respect, and love for the woman who never stops trying the hardest for her children. Moreover, by giving her this card, you mean she is the most special and ideal woman on earth. A small card, but a big message!
2. Mixed Flower Pot Pop Up Card
A bouquet of flowers can represent the strong bond between you and your mom. We intentionally put various flower kinds in, so that it could show how much she means to you. The most outstanding flower, the rose, the "queen of flowers," symbolizes love and passion. Likewise, Larkspur indicates beauty, positivity, and strong bonds of love; the Hydrangea represents grace, gratitude, and beauty. This diversity embodies the fact that your mom means the whole world to you. Upon opening this card, she will definitely be moved.
3. Watering Can Sunflower Bouquet Pop Up Card
Sunflowers are widely known for their symbolic meaning. As they always turn their faces toward the sun when it moves across the sky, people consider them the flowers of positivity, joy, and warm love. Looking at this pop up card, you'll associate your mom with the woman carrying a watering can of beautiful things to flourish your life. This simple but meaningful pattern says this to your mom for you: "I owe you a great debt of gratitude, Mom!"
4. Daisy Bouquet Pop Up Card
Blooming in the spring with elegant colors, the daisy illustrates innocence, a fresh start, and new hope. With the Daisy Bouquet pop-up card, you can easily express your hope for a new life filled with bright things to your mom. To children, the best thing ever is seeing mom living a happy life.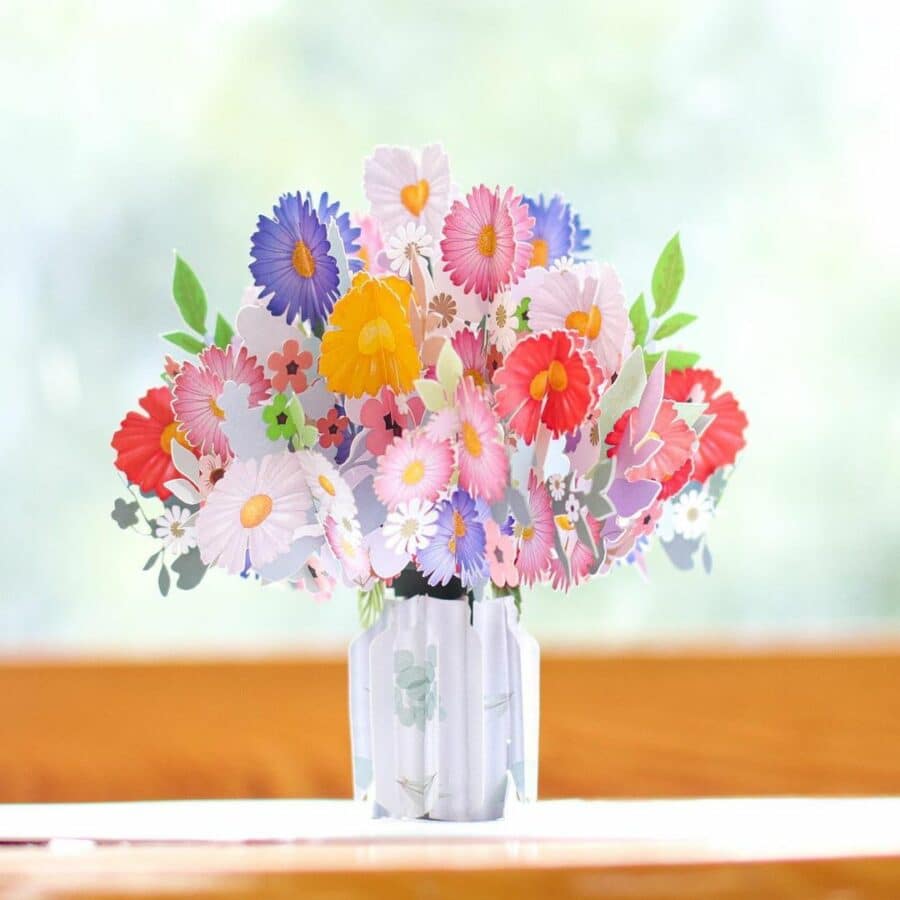 Daisy Bouquet Pop Up Card
5. Hydrangea basket Pop up card
Each kind of flower has its own meaning, which varies in different cultures. For example, in Japan, hydrangeas are associated with gratitude and appreciation. Or in the Victorian language of flowers, they are representative of heartfelt emotions, such as understanding and deep emotional connections. Generally, in any region, they are symbols of deep and sincere feelings. Indeed this perfectly meets your desire to express affection to your mom.
In short, there are so many Mother's Day pop up flower card designs to satisfy your needs. If you find it hard to choose one, just sit down and see what your mom means to you and what you wish for her. We have many more Mother's Day pop up flower card patterns ready for you. After all, what really means to your mom is your heartfelt love. Follow our Instagram to find out more!