Valentine Heart Chocolate Pop Up Card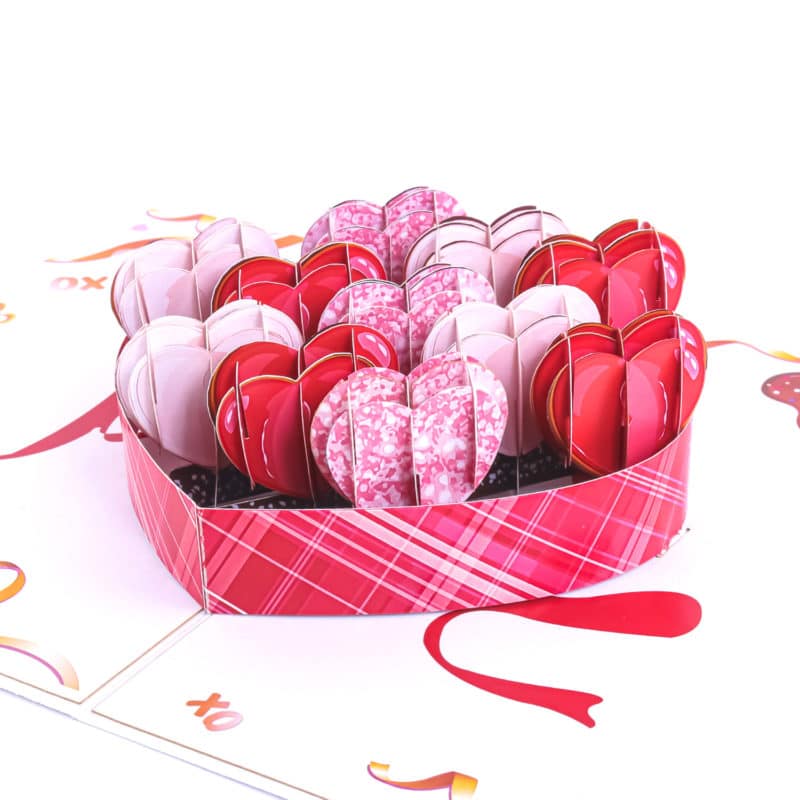 Valentine Heart Chocolate Pop Up Card has a glitter white cover which features a beautiful chocolate box. The pattern reveals just enough about the little surprise inside. Open the card, you will find stunning sculptures of sweet chocolate hearts, being surrounded by a pink box. Our craftsmen have carefully designed layers and layers of the pop-up to make the sculptures look so vibrant and bring great excitement to recipients.
We always leave the 3d pop up greeting card blank so that you can personalize your own words.
Chocolate is indispensable on Valentine's Day because it has a huge physiological and emotional effect on people. For centuries, chocolate has symbolized affection, attraction, deep love, luxury, passion and sensuality. Chocolate is also widely known as a powerful mood enhancer. For this reason, giving chocolate to your partner on Valentine's Day is not just a sign of love but a perfect way to express delight, initiate desire or simply uplift the mood. We used this as the main inspiration to create this Valentine Heart Chocolate Pop Up Card. Undoubtedly, this stunning pop up card will help to create unforgettable memories for your own partner or spouse on Valentine's Day.
The card is most suitable for in-love couples, or couples who love sweet surprises for their anniversary or Valentines. The card could also be turned into a wedding card, or a simple love card, or a wedding invitation…all up to your choice!