Roses have inspired people over the ages to develop a language of roses by ascribing meanings to color, variety and number of roses being gifted. Traditionally, the rose is considered the flower of love. Nothing beats red roses in saying "I Love You" on Valentine's Day.
What's more classically romantic than red roses? Almost everyone knows (or should know) that a brilliant bouquet of red roses is the perfect way to declare feelings of romantic love. Whether in celebration of an anniversary, wedding, Valentine's Day or even National Romance Month (August), there is no mistaking the implication of passion, desire and above all, love, associated with red roses. So, how has the red rose become what it is known for today?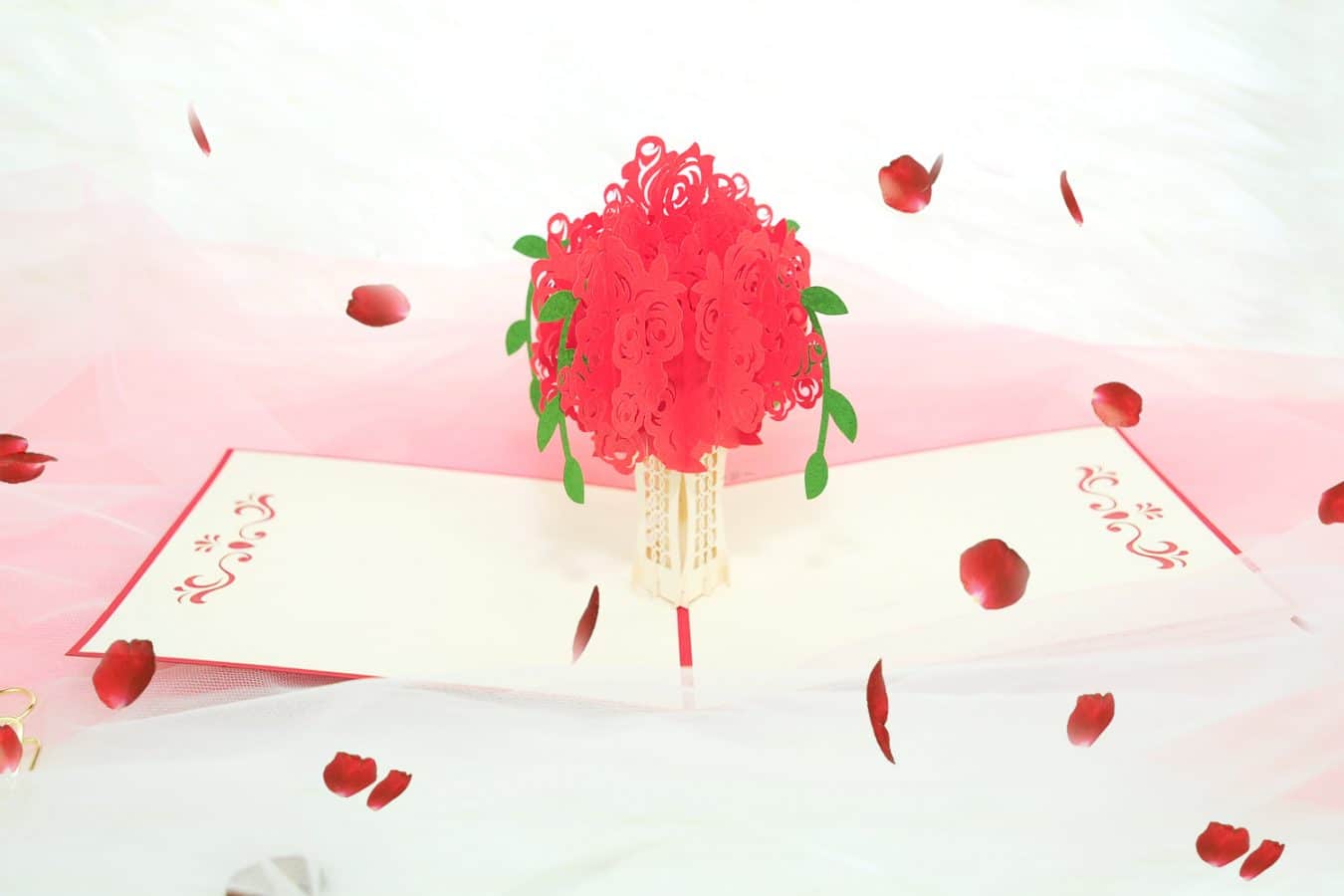 Symbol of Red Roses
If anybody mentions symbol of love, It's probably safe to say there's no more prevalent or enduring symbol of love and beauty in Western culture than red roses.
If you don't know, these fragrant blooms come in varying shades of red, which also carry different symbolic meanings. For example, a bright red rose signifies romance, while burgundy means a love that has yet to be realized.
  The classic red rose is often the best choice for expressing your deepest affection for that special someone. Whether you send a single red rose, or a grand bouquet of ravishing reds, surprise your one and only for a romantic occasion, or better yet, just because.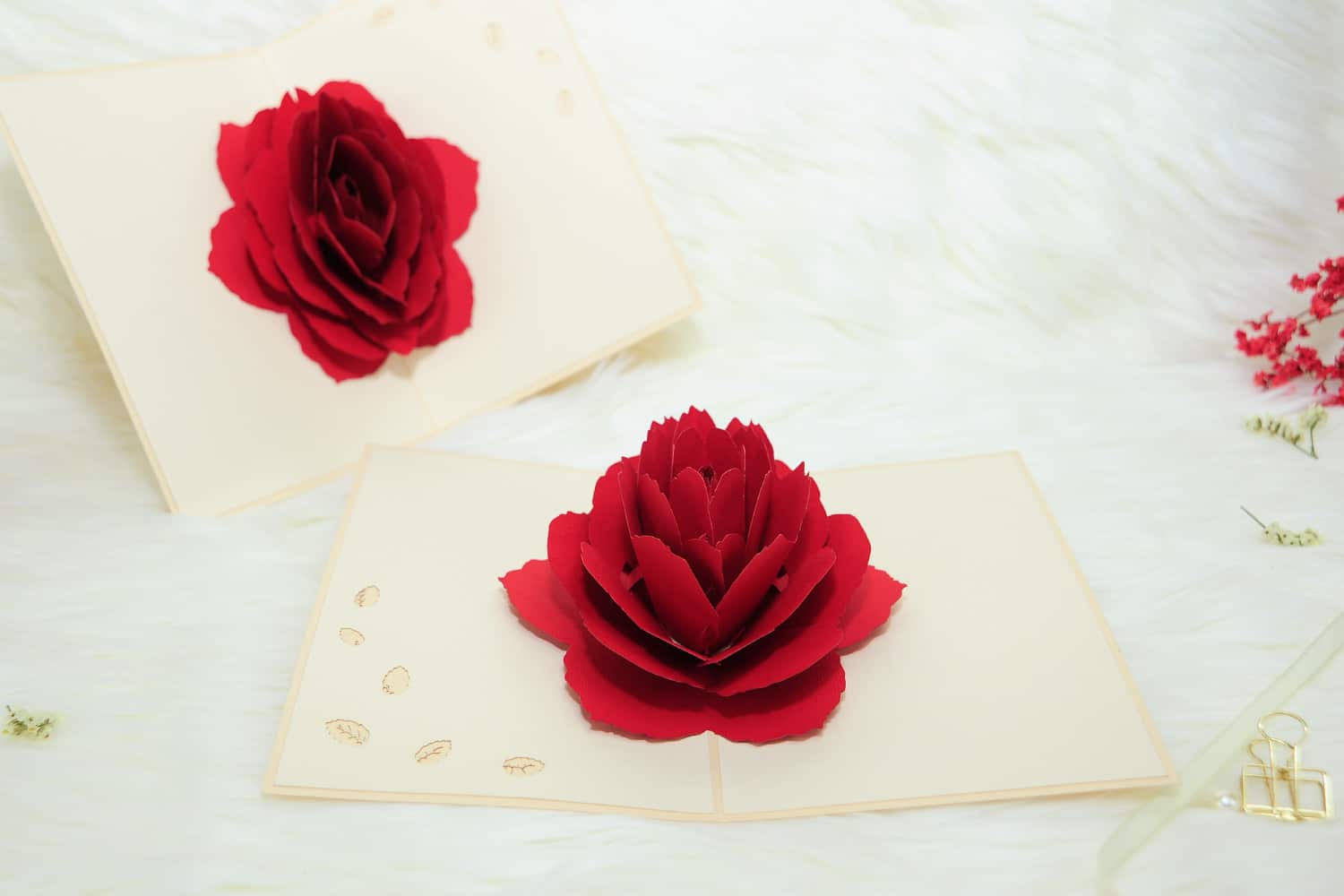 Find more about these pop up Valentines Rose greeting cards
Love is the most wonderful of all feelings in this world. It's Valentine's Day 2018 and what could be a better time to let your dear ones know that you love them. Make them feel special by sending the beautiful 3D kirigami greeting cards of loving words.
CharmPop, as a pop up card manufacturer and Christmas 3D card wholesaler, always give our best to bring the best pop up card ideas into the best 3D card designs! All of our 3D card designs are created with exceptional attention to the smallest detail.
Rose Bouquet pop up card has a red cover with a lovely rose pattern. The image reveals just enough of the surprise inside. The sculpture inside is a bouquet and a lot of elegant red roses. Our craftsmen have carefully design layers and layers of the pop-up to simulate this lovely flower bouquet.
We always leave the card blank so that you can personalize your own words.
Inspirations of Rose Bouquet pop up card:
A red rose is an unmistakable expression of love. Red roses convey deep emotions – be it love, longing or desire. Red Roses can also be used to convey respect, admiration or devotion. No needs for too dramatic idea, the moment when the sculpture pops up is enough to trigger excitement.
Occasions for Rose Bouquet pop up card:
We hope this flower pop up card could become a simple delicate gift for any everyday occasion. Suitable for business, friends, lover or family.
Quantity:
One CharmPop Card comes with one envelope and one clear plastic bag.
Size: 6×6 ( inch)
Colors: custom color
Wholesales Price: contact
Read more
Rose Pop Up Card has a yellow cover with a beautiful romantic rose pattern. The pattern reveals just enough about the little surprise inside. Open the card, you will find a stunning sculpture of a beautiful single rose. Our craftsmen have carefully design layers and layers of the pop-up to reminisce the exact shape of each rose petal.
We always leave the 3d pop up greeting card blank so that you can personalize your own words.
Inspiration of Rose Pop Up Card:
The rose is a flower of love. The world has acclaimed it for centuries. Regarding sending a loving message, red roses are the best choice. This type of roses is a traditional symbol of love and romantic relationship. With their warm, sunny disposition, a bouquet of yellow roses tends to light up the room, making them a perfect way to say thanks, get well or simply congratulations. The card could also be easily turned into custom pop up card.
Occasions for Rose Pop Up Card:
Give this handmade pop-up card to your male colleague, boss or family as a unique and special gift. CharmPop – as a pop up card manufacturer and pop up card supplier – provide custom service where you can create your own custom designs.
Quantity:
One CharmPop Card comes with one envelope and one clear plastic bag.
Size: 5×7 ( inch)
Colors: custom color
Wholesales Price: contact
Read more