Turkey Thanksgiving Pop Up Card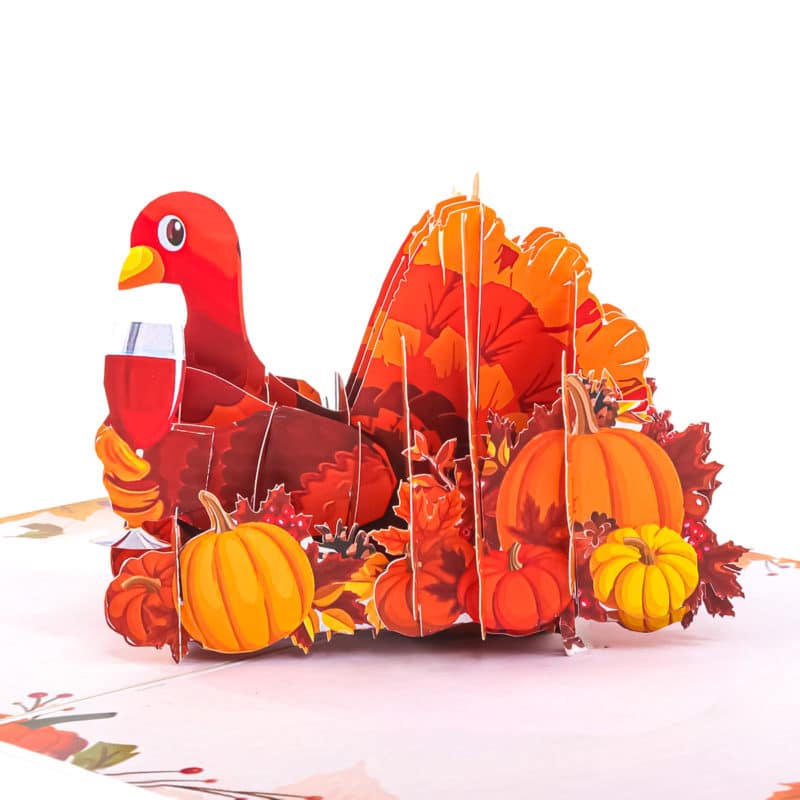 You will never be able to celebrate Thanksgiving without having turkey on dinner tables. For centuries, the holiday of Thanksgiving has revolved around a bounteous meal with typical dishes such as pumpkin pie, potatoes, cranberry sauce, and, above all, turkey. This giant bird always ends up as the centerpiece of the Thanksgiving feast across the country. Taking this as inspiration, Turkey Thanksgiving Pop Up Card was exclusively designed by CharmPop Card to celebrate the Thanksgiving occasion with friends and families.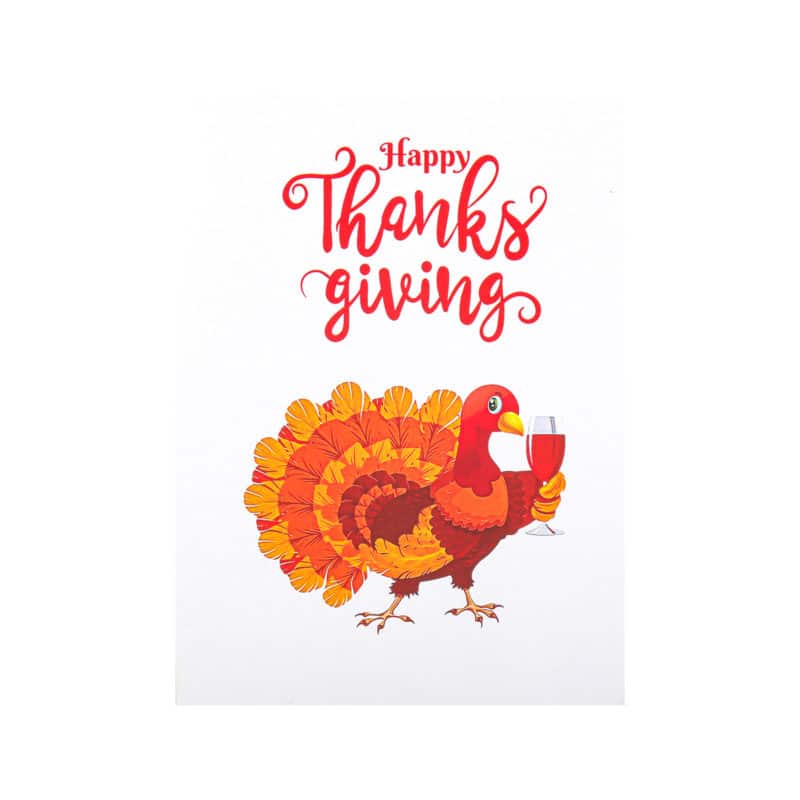 Turkey Thanksgiving Pop Up Card has a glitter white cover that features an adorable turkey holding a cup of champagne with "Happy Thanksgiving" text. The image reveals a clue of what will pop up inside. Upon opening the card you will find a meticulously three-dimensional turkey being surrounded by a lot of pumpkins while holding a cup of wine. We also embellished the card with many autumn-vibe patterns decorated on the background such as yellow leaves and orange pumpkins. We always leave the card blank so that you can personalize your own words.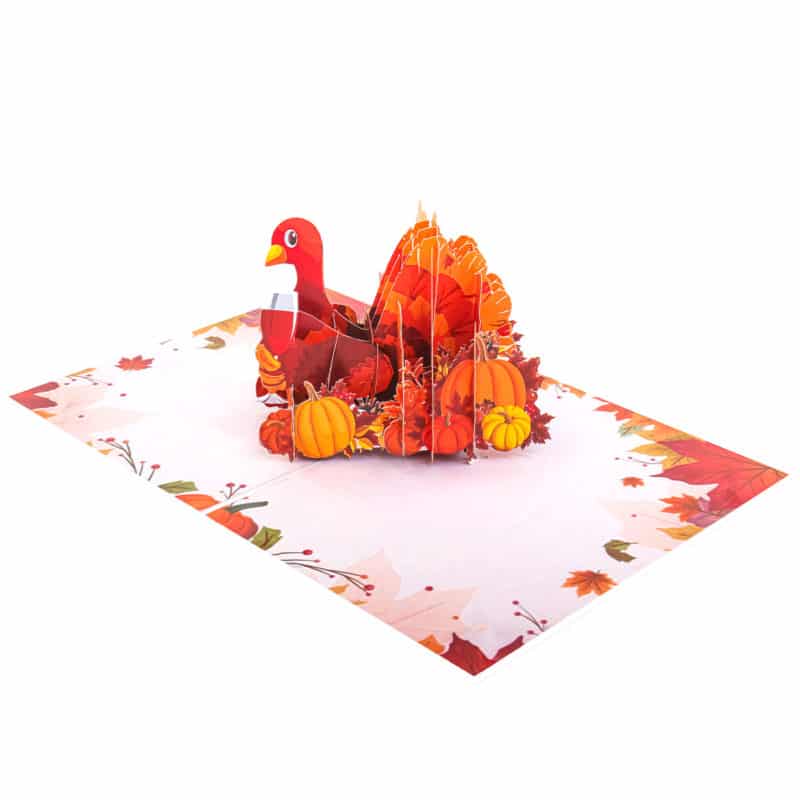 The moment when the 3D turkey sculpture pops out is enough to trigger excitement and celebrate the occasion. Undoubtedly, the receivers will feel so surprised and happy. Our craftsmen have carefully designed layers and layers of the pop-up to form a perfect and lively sculpture.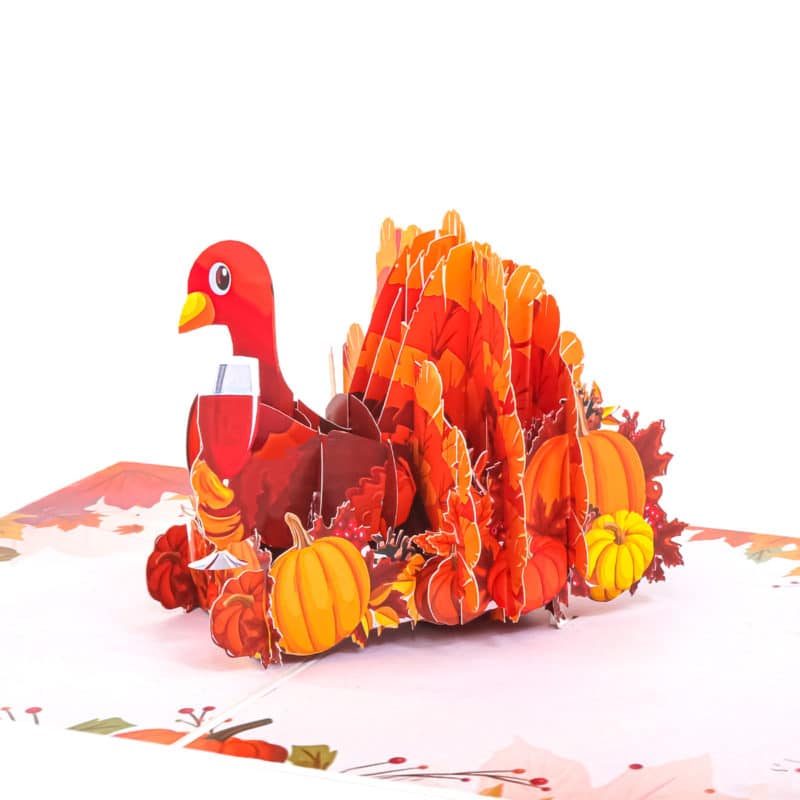 Furthermore, we use eco-friendly premium card paper which is laser cut by precision machines and hand assembled. Additionally, CharmPop also uses hard and high-quality paper which is not easy to tear and damage. Not to mention, the colors of pop up cards will not fade easily so they can be stored for a long time.
Turkey Thanksgiving Pop Up Card is a perfect Thanksgiving gift this year for anyone throughout the entire holiday season. Send this stunning pop up card design with your personalized messages to your beloved ones and they will undoubtedly keep them forever or simply display them on the Thanksgiving dinner tables. Turkey Pop Up Card is also a perfect gift for any turkey enthusiast.
Another great use for this card is to say sorry when you've eaten the last piece of sweet potato pie. People get upset about that; a pop up card is sure to help smooth things over.