Santa with Christmas Toy Bag Pop Up Card
It is uncontroversial that Santa Claus has become a universal symbol of Christmas for centuries. The idea of Christmas is always related to the image of a chubby old man dressed in red and wearing black boots and belt with a long white beard. On Christmas Eve, all children wait an entire night for Santa to land on the roof of the house and pop down the chimney in the wink of an eye to give the best Christmas gifts from his huge red bag to the good girls and boys who are on his nice list. Taking this as inspiration, Santa with Christmas Toy Bag Pop Up Card is designed by CharmPop to reminisce the memorable winter night in childhood days when children were trying so hard to wait for Santa to visit once in their lives.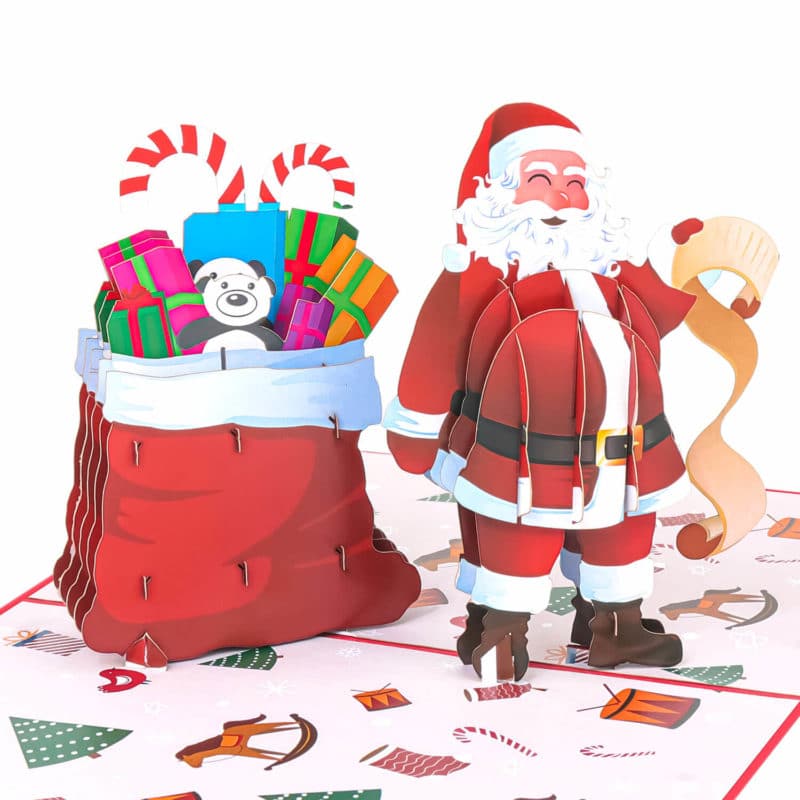 Santa with Christmas Toy Bag has a red cover that features a happy Santa with a huge red bag of colorful gift boxes, cute bear and candy canes. The image reveals just enough of the surprise inside. When you open the card, you will be surprised by a stunning three-dimensional sculpture full of incredible details: an adorable Santa holding an old paper scroll with a big bag full of Christmas gifts for the good boys and girls across the world on Christmas Eve. We also embellish the card with many Christmas-vibe patterns decorated on the background such as Christmas tree, candy canes with red stripes, wooden horse and small gift box. We always leave the card blank so that you can personalize your own words.
Furthermore, we use eco-friendly premium card paper which is laser cut by precision machines and hand assembled. Additionally, CharmPop also uses hard and high-quality paper which is not easy to tear and damage. Not to mention, our pop up cards will not fade easily so they can be stored for a long time.
This Santa Train Pop Up Card is the perfect gift for anyone throughout the entire winter holiday season. Send it to your friends and loved ones as a Christmas gift and they will surely keep it in their house forever.