Santa with Gift Box Pop Up Card
On Christmas Eve, every person once waited an entire night for Santa to land on the roof of the house and pop down the chimney in the wink of an eye to give the best Christmas gift in the world. Taking this as inspiration, Santa with Gift Box Pop up Card is designed by CharmPop to reminisce the memorable winter night in childhood days when children were trying so hard to wait for Santa to visit once in their lives.
The moment when the huge gift box and Santa pop up is enough to trigger excitement and bring happiness to the receivers. Moreover, our craftsmen have carefully designed layers and layers of the pop-up to form a perfect and lively sculpture.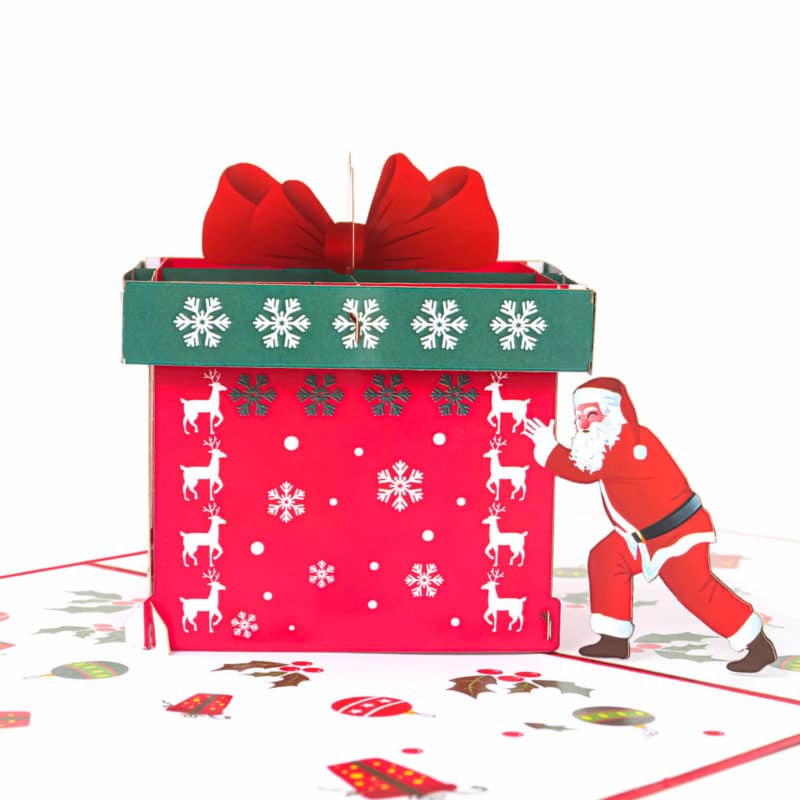 Santa with Gift Box Pop up Card has a red cover that features a beautiful illustration of a huge red gift box and a tiny Santa pushing it forward. The image reveals just enough of the surprise inside. When you open the card, you will be astonished at a stunning three-dimensional sculpture of an enormous red gift box with an adorable Santa. The huge Christmas gift box is decorated meticulously with many Christmas-vibe patterns such as snowflakes, reindeers and a lovely red bow on top of it. This pop up card is definitely an impressive 3D pop up card for upcoming Christmas. We always leave the card blank so that you can personalize your own words.
Furthermore, we use eco-friendly premium card paper which is laser cut by precision machines and hand assembled. Additionally, CharmPop also uses hard and high-quality paper which is not easy to tear and damage. Not to mention, our pop up cards will not fade easily so they can be stored for a long time.
Santa with Gift Box Pop up Card is a perfect Christmas gift this year for anyone throughout the entire winter holiday season. Send this stunning pop up card design with your personalized messages to your beloved ones and they will undoubtedly keep them forever.