Santa Train Pop Up Card
The magical journey to the North Pole on Santa's vintage steam train is always a dream of every person in childhood days. It is also the train which carries all the most amazing gifts for the good little boys and girls across the world on Christmas Eve. Unlike the usual image of Santa's sleigh being pulled by magical reindeers, Santa Train Pop Up Card will bring about a special twist to any lucky receiver on this upcoming Christmas.  Santa Train Pop Up Card has a red cover with a cool illustration of a beautiful stream train with a lovely Santa and piles of gift boxes. The image reveals a clue of what will pop up inside. Upon opening the card, you will find a stunning three-dimensional steam train decorated with multi-colored lights while the lovely Santa is driving it. Furthermore, we also embellish the card with many colorful Christmas gift boxes and a huge red Santa's bag which are all carried by the train. It is undoubtedly an unforgettable pop up card for Christmas. We always leave the card blank so that you can personalize your own words.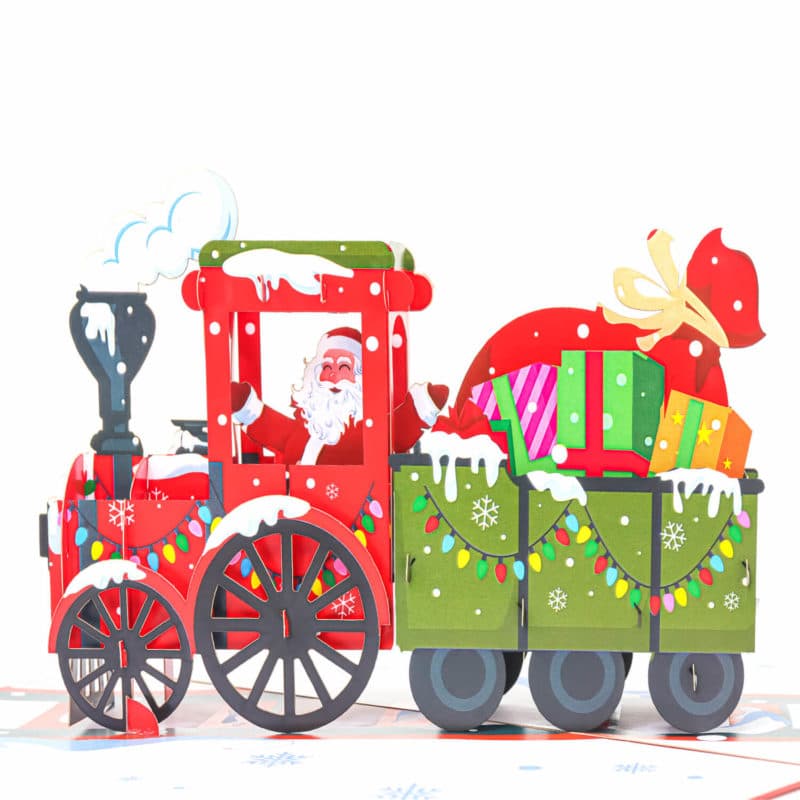 There is no need for over-dramatic ideas or expensive presents to make Christmas Day extra special. Just exchanging Christmas pop up cards with thankful messages is enough to trigger excitement and celebrate the occasion. Moreover, our craftsmen carefully designed layers and layers of the pop-up to form a perfect and lovely sculpture. Furthermore, we use eco-friendly premium card paper which is laser cut by precision machines and hand assembled. Additionally, CharmPop also uses hard and high-quality paper which is not easy to tear and damage. Not to mention, our pop up cards will not fade easily so they can be stored for a long time. This Santa Train Pop Up Card is the perfect gift for anyone throughout the entire winter holiday season. Send it to your friends and loved ones as a Christmas gift and they will surely keep it in their house forever.