Christmas Tree Pop Up Card
There are many meaningful ways to celebrate Christmas which make it even extra special. There is no need for over-dramatic ideas or expensive presents, only the feeling of love, appreciation and togetherness with your friends and family around the Christmas tree are enough to create unforgettable memories during winter holiday. Inspired simply by this idea, we have come up with this beautiful pop up card as a way to reminisce about traditional ways to celebrate Christmas Day. This Christmas card will definitely bring a wonderful holiday joy and surprise to any lucky recipient, especially for those who love Christmas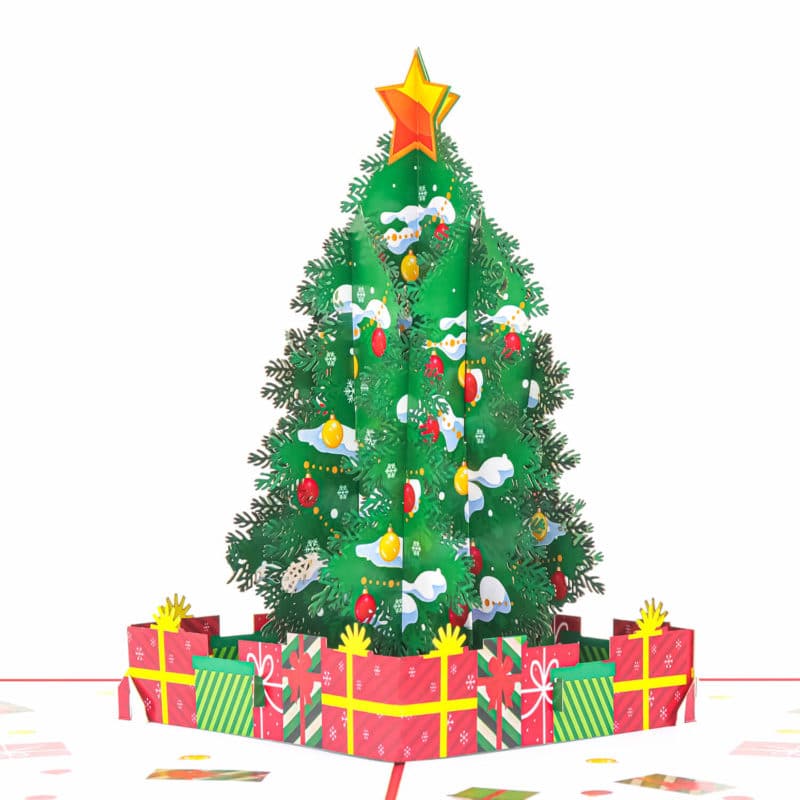 The Christmas Tree Pop Up Card has a red cover featuring a beautiful Christmas tree with colorful gift boxes. The image reveals a clue of what will pop up inside. Open the card and you will find a stylish well-decorated Christmas tree with a sparkling star on top of it and countless colorful Christmas balls. We also embellish the pop up card with gift boxes around it. Moreover, our craftsmen have carefully designed layers and layers of the pop-up to form a perfect and lovely sculpture. We always leave the card blank so that you can personalize your own words and give it to your friends or family.
Furthermore, we also use eco-friendly premium card paper which is laser cut by precision machines and hand assembled. Additionally, CharmPop uses hard and high-quality paper which is not easy to tear and damage. Not to mention, our pop up cards will not fade easily so they can be stored for a long time.
This Christmas Tree Pop Up Card is undoubtedly the perfect gift for anyone throughout the entire winter holiday. Send to your beloved ones with heartfelt messages as a Christmas gift. They will absolutely keep them forever.