Peony Flower Basket Pop up Card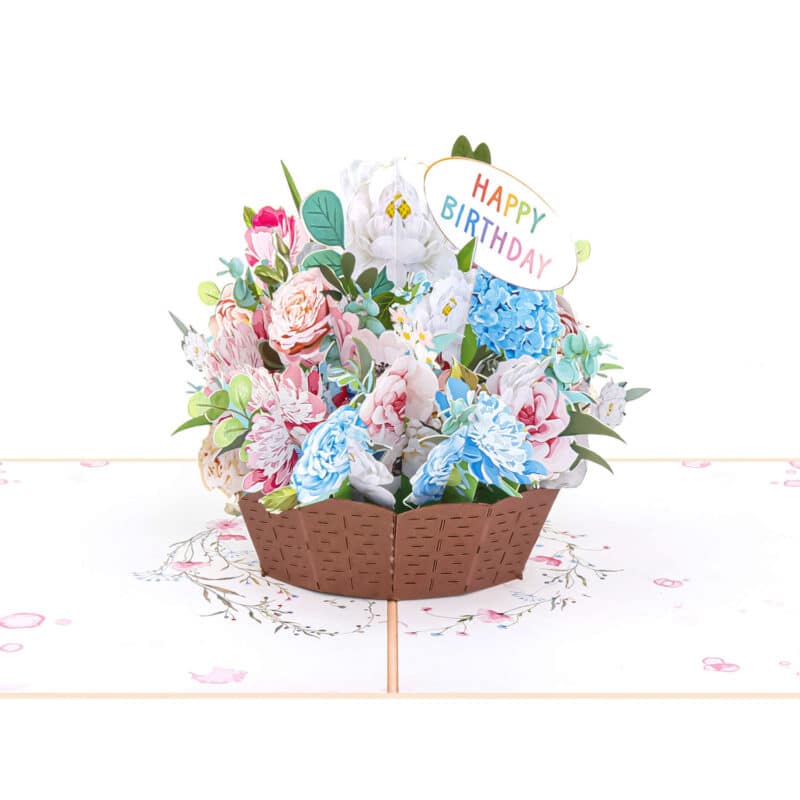 The  Peony Flower Basket Pop up Card has a glitter pink cover that features a basket of colorful peony flowers and a heartfelt "Happy Birthday" message. Upon opening the card, a meticulous 3D peony basket with hot pink peonies as the main focus embellished with light blue peonies and white peonies. The full flower bouquet will bring a feeling of happiness, radiant joy to the receiver. Included with the flower basket will be a cute little 2D card that you can customize to look like the message on the outside of the card.
Inspiration of Peony Flower Basket Pop up Card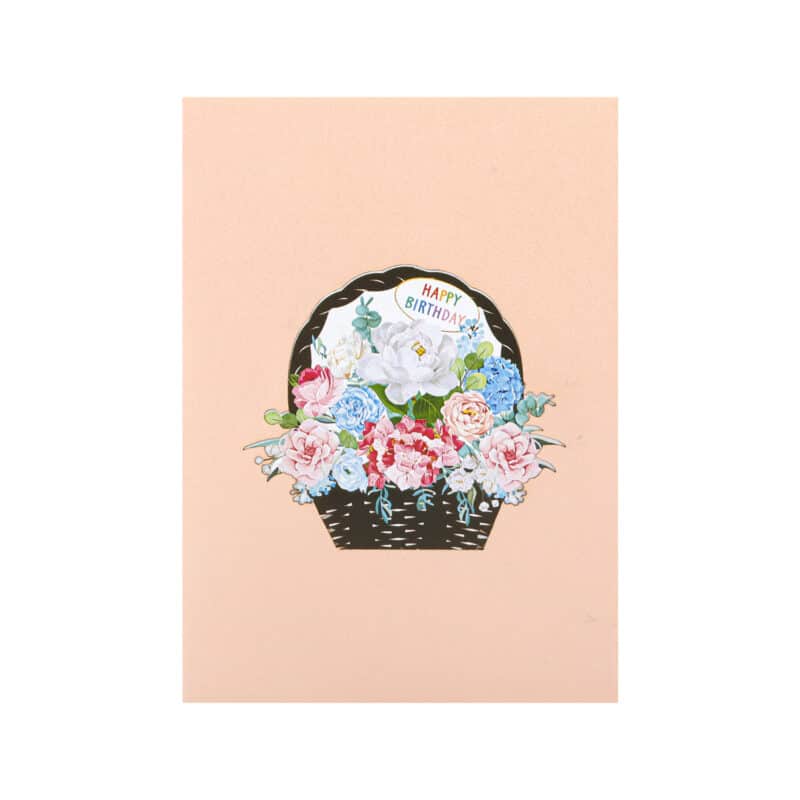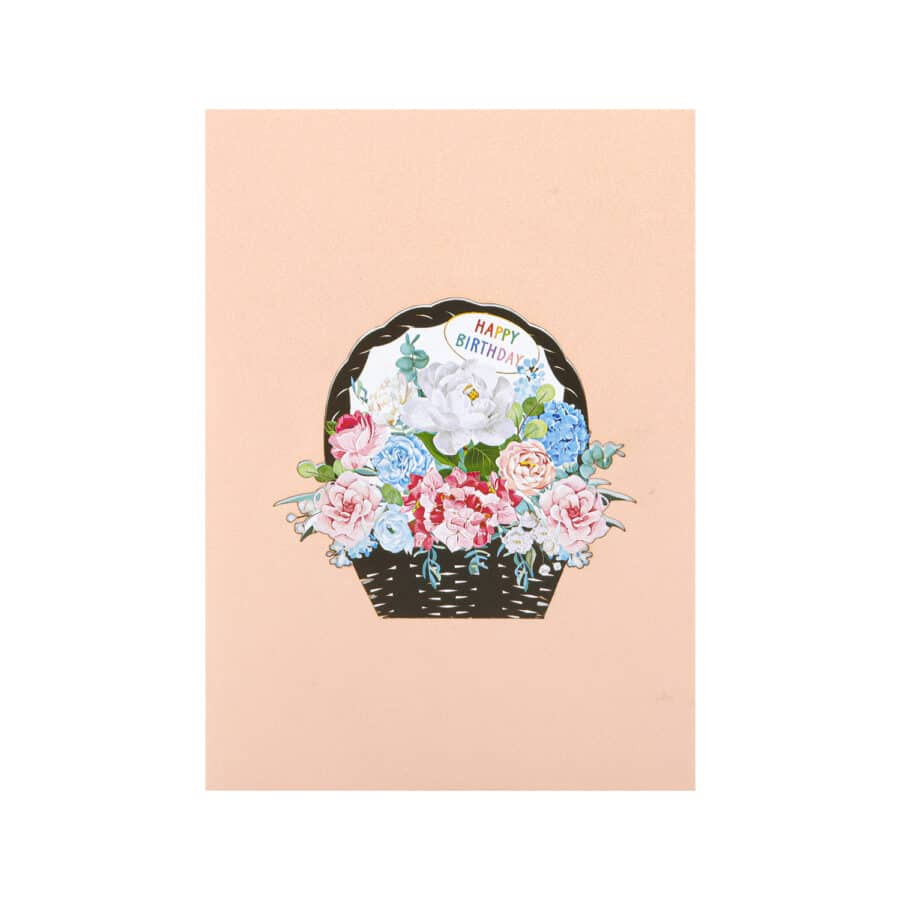 Peonies have been around since 1000 BC, which is over 4000 years ago! In the eighth century, they moved from the gardens of China to Japan, which was clearly a major producer of peonies. Traditionally, peony has been used to cure headaches, asthma and even childbirth discomfort. They were introduced to Europe in the late 1800s and were an instant success. And used for gardening throughout Europe, North America and beyond instantly! These days, peonies are mainly used for decoration.
According to legend, the word peony comes from Paeon (or Paean), the physician of the gods in Greek mythology. He was a student of Aesculapius, the Greek god of medicine. According to legend, when Paeon used the roots of the peony to cure Pluto, Aesculapius became enraged and attempted to kill him. Zeus saved him from death by turning him into a peony, whichi is adored by many people.
The Peony flower basket card is inspired by colorful peonies flowers. The Chinese word for "most beautiful" also translates to "peony," it makes sense that they are known to symbolize beauty and love (psst: they're also associated with honor and prosperity).
Occasions for Peony Flower Basket Pop up Card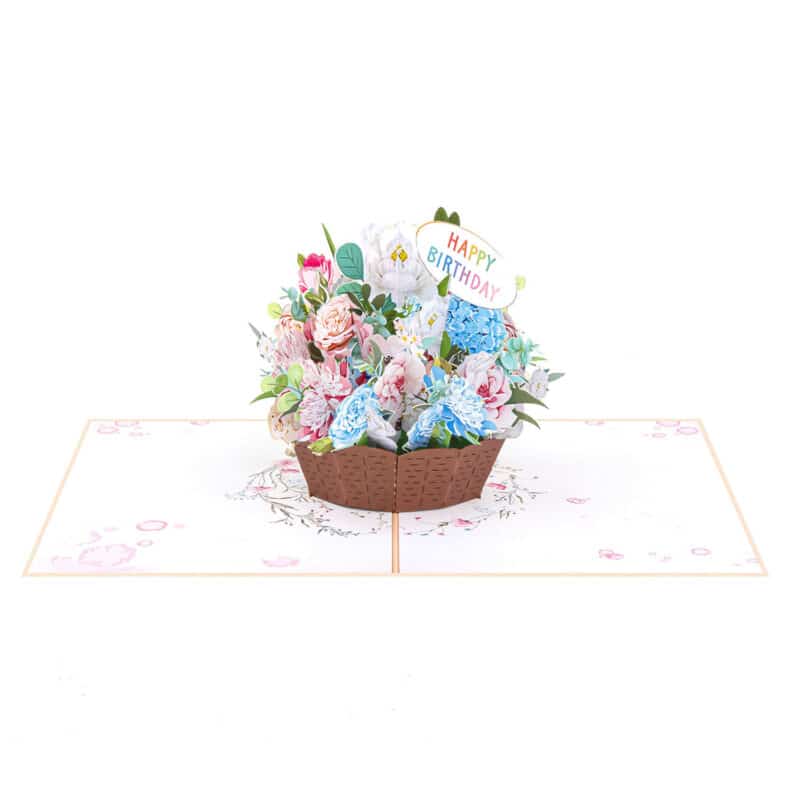 Charmpop suggests some occasions for you to give a Peony Flower Basket Card: Peonies represent romance, happiness and good luck, so they can be used for many anniversaries such as weddings, friendship, important first dates, the birth of a baby ,… Visit our Instagram to get more pretty cards.