Back To School Pop Up Card
The Back to School Pop Up Card has a green cover with adorable patterns and a "Back to school" message. The image reveals just enough of the surprise inside. When you open the card, you will be surprised by a multicolored three-dimensional "Back to School" typography. We also embellished the pop up card with cute 3D sculptures of clouds, knowledge apples, books, rulers, pencils, backpacks to bring true school vibe. It is absolutely the most special time-keeper to mark this special day and wish all children the best luck to go to school.
We always leave the card blank so that you can personalize your own words.
Inspiration of Back To School Pop Up Card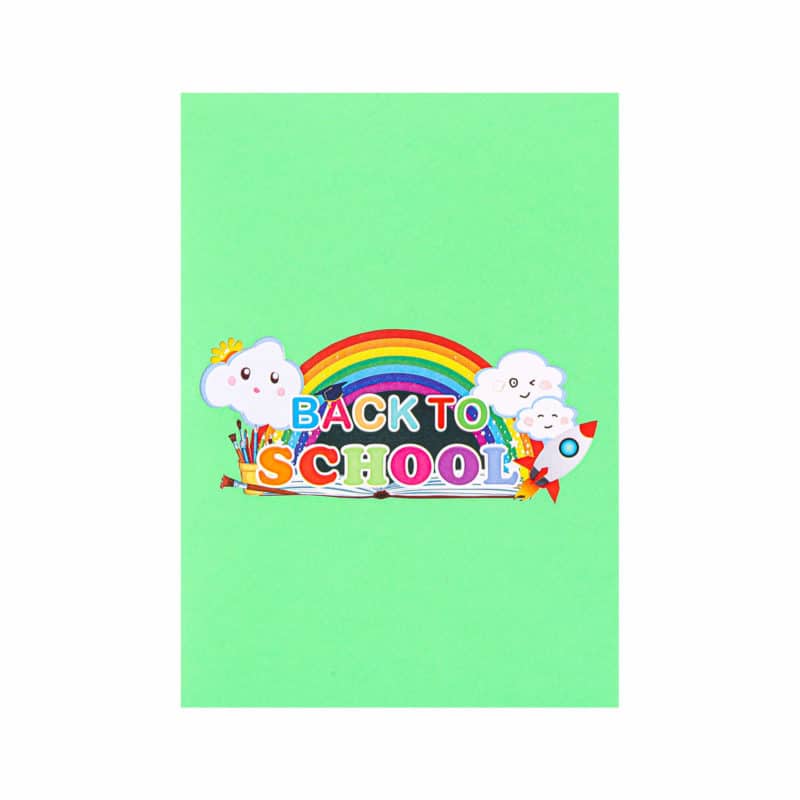 It's school time again! For kids when summer comes to an end, it means it's time to go back to school. Some might be excited, but some might be sad and get nervous or even a little scared if it's the first day of school. It's essential for adults to motivate and send them support. Taking this as inspiration, CharmPop has come up with this meaningful 3D Back To School pop up card design as a wonderful gift for kids to celebrate the start of a school year. It brings about a twist to your usual sweet messages to your children when they need a little confidence boost or tell them how much you care.
Occasions for Back to School Pop Up Card
The Back to School Pop Up Card is perfect for parents and family members to express love and motivation for your kids when they go back to school. This will be a wonderful gift to send to students (teachers and staff, too) heading back to a new school year. Perhaps, you're a teacher and want to encourage students, this pop up card will also serve as a perfect gift.