Pink Hydrangea Vase Pop Up Card
Just a vase of Hydrangea standing out in a pastel orange matte cover can make the Pink Hydrangea Vase pop-up card a perfect choice for those who are fans of this flower. Upon opening the card, you will see full-bloomed pink hydrangeas excellently mixed with peony flowers. The harrmonious blend literally creates a stunning flower bouquet to impress the receiver. To achieve this masterpiece, our craftsman has carefully designed and laser-cut every flower and green leaf to perfection. The sculpture can be said to have captured all the vibration of these mesmerizing flowers.
The charm of the Pink Hydrangea vase pop-up card also lies in the purple watercolor background, which perfectly accentuates the wonderful beauty of the flower vase popping up in the middle. We always leave the card blank so that you can personalize your own words.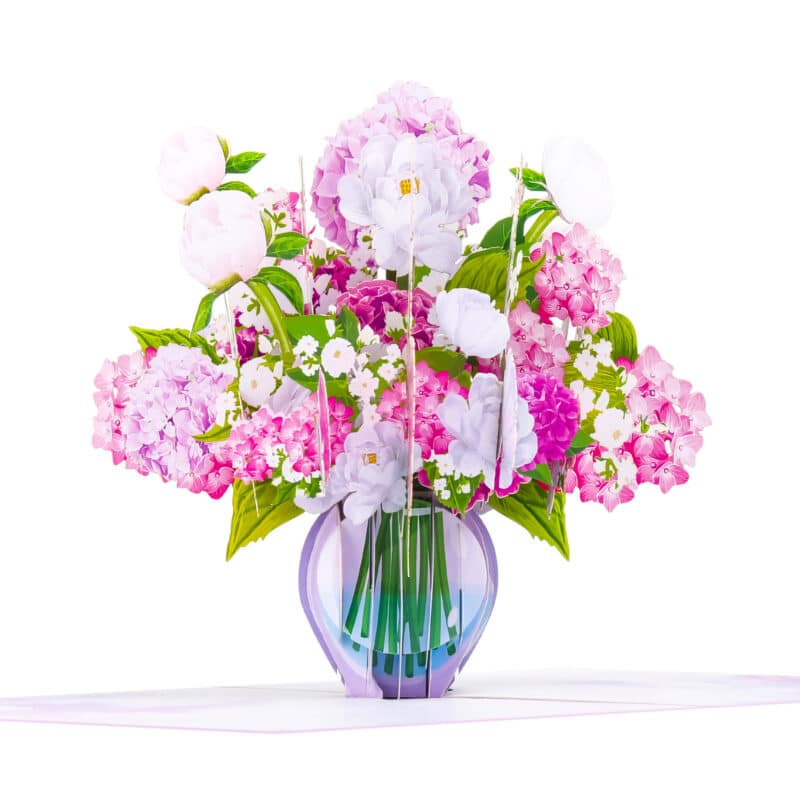 Inspirations of Pink Hydrangea Vase Pop Up Card 
Hydrangea is the flower that instantly lifts spirits and brings joy to the home. In Japanese culture, they are symbols of heartfelt emotion, gratitude, and apology. Legend has it that hydrangeas were once used by a Japanese emperor to give to the family of the girl he loved, apologize for his neglect, and show how much he cared for her.
Hydrangeas come in a variety of colors, and each of them has its own meaning. For example, while hydrangeas symbolize purity, grace, and abundance, pink ones symbolize love and sincere emotions. Therefore, you can give it to your partner on your first date or even when you are in a long-term relationship.
Occasions for Pink Hydrangea Vase Pop Up Card 
Are you in a relationship? The card is not necessarily for your special occasions, but just because you want to spice up your relationship a bit.
It doesn't mean you can't use it for other occasions. Since hydrangea also radiates love, harmony, and peace thanks to the lavish number of flowers and the generous round shape, you can use this card for weddings, birthdays, and anniversaries as well.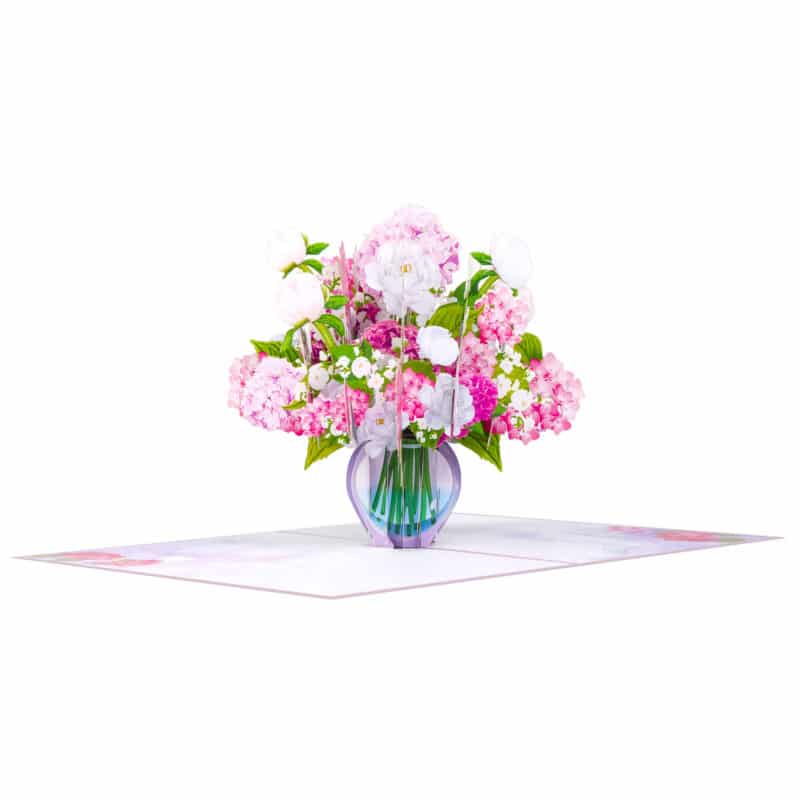 Looking for more themed pop up cards? Check out our Collection or follow us on Instagram.