Christmas Penguin Couple Pop Up Card
Animals have gradually become an important part of Christmas symbolism. The association with snow and the wintery conditions of the season makes penguins become one of the most popular animals which symbolize the spirit of Christmas. For this reason, Christmas Penguin Couple Pop Up Card design will definitely be a cool twist for the holiday.
Christmas Penguin Couple Pop Up Card has a dark blue cover with a cool illustration of a lovely penguin couple standing on a small iceberg. The image reveals a clue of what awaits inside. When you open the card, you will feel astonished at a meticulously three-dimensional paper sculpture of two adorable penguins wearing red woolen scarves while celebrating Christmas on the iceberg. We always leave the card blank so that you can personalize your own words. It is not only an amazing 3D pop up card for upcoming Christmas but also a perfect present for any animal lover.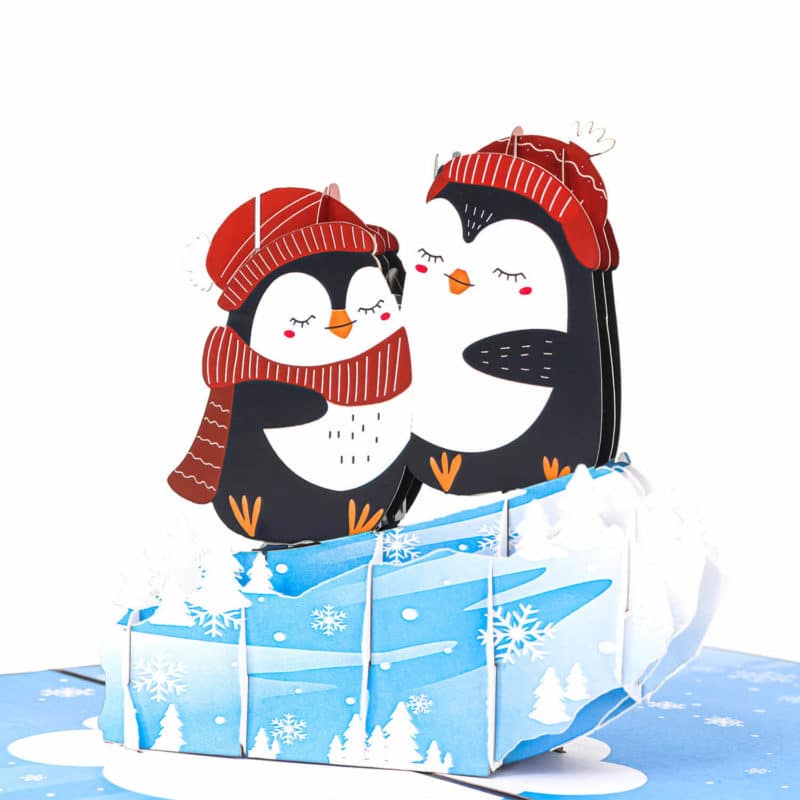 Our craftsmen have carefully designed layers and layers of the pop-up to make the sculpture look so vibrant and bring great excitement to receivers on this upcoming Christmas. We hope with this adorable pop up card, you will perfectly surprise any recipient.
Furthermore, we also use eco-friendly premium card paper which is laser cut by precision machines and hand assembled. Additionally, CharmPop uses hard and high-quality paper which is not easy to tear and damage. Not to mention, our pop up cards will not fade easily so they can be stored for a long time.
This cute pop up card design is surely a memorable Christmas gift this year which helps to boost the holiday spirit. Send some personalized messages to your beloved ones and they will definitely keep them in their house for decoration. It is also suitable for birthdays or other special occasions.