Are you concerned and having trouble understanding how to compose a flower card message? Wishes like "Happy Birthday" and "Happy Easter" are common and dull, and if you write too much, the card will end up seeming like a lengthy, tacky handwritten letter. Don't worry; with only a few pointers, you'll be able to make a meaningful card for your loved ones and friends.
How Long Should the Flower Card Message Be?
If you look closely, you will notice that we typically divide our writing into three sections: an introduction, a body, and a conclusion. Using only three sentences, we also use this approach for the message on the flower card.
The sentence 1: A standard greeting
The sentence 2: Your heartfelt wishes for the receiver
The sentence 3: Express your love
Tips & Advice for Making a Flower Card Message:
One of the best bits of advice for writing a note on floral cards is to be yourself and sound like yourself. If you don't normally talk in flowery words and are uncomfortable writing something fancy, then don't. Write something simple, honest, and from the heart, and it will sound sincere.
If you're sending a flower card to a close friend or relative, you can be more relaxed with your message. Plus, including personal details will give your note an extra-special touch. If you're sending a flower card to a friend or coworker, stick to more formal or general sentiments that are specific to the occasion.
Don't forget to include your signature or a special sign so the receiver knows who sent it. With the help of Charmpop, let's make a lovely and heartfelt flower card message. Follow our Instagram to get more pretty card.
A lovely bouquet of pure white Peony flowers that sends a message of solemnity. Therefore, the white peony can be seen as a symbol of a particular class, as well as the sincerity and happiness that everyone wishes to have.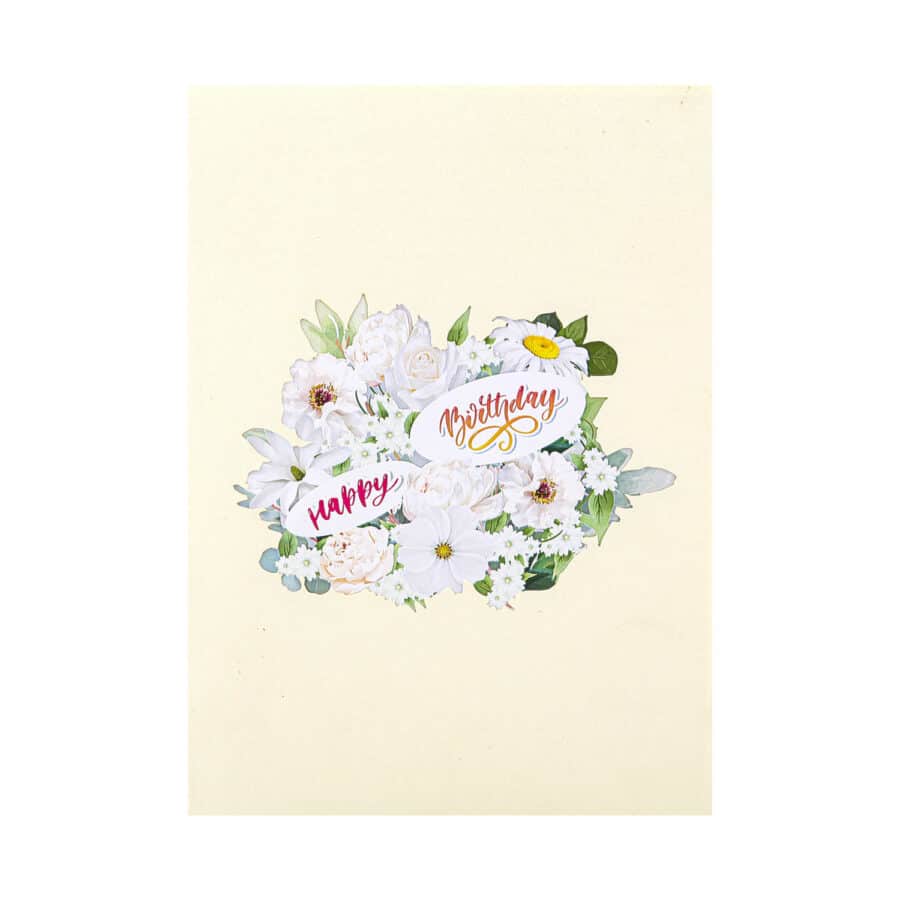 Pop-up cards with a peony flower basket:
Peonies blossom in a variety of colors, each with its own distinct appearance and sentimental wishes attached. The perfect gift for Mother's Day, Valentine's Day, etc.
The Peony pop-up card collection is available to order now, contact us now to order in bulk.