Easter is a fun holiday. Bunnies lay eggs, children hunt for eggs, and people dress up in fancy clothes. Jesus Christ's resurrection is celebrated by Christians across the world. It's a holiday filled with fun and meaning. Secular traditions include meaningful family get-togethers. But thinking about what to write in your Easter card is a bit tricky. CharmPop got your back with these simple but thoughtful words to write on Easter pop up cards.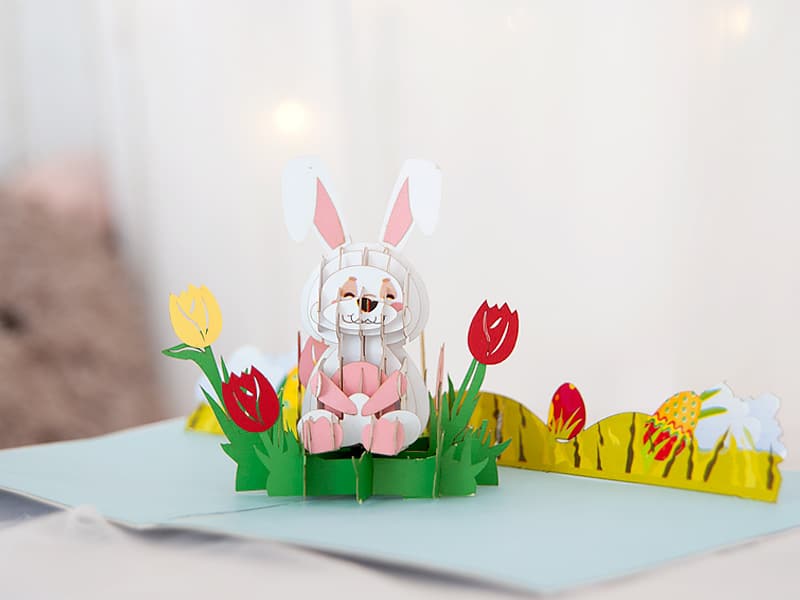 Have and egg-stra egg-cellent Easter!
Easter is about being with all the people you love. And I love being with you!
We are all blessed at Easter, but I hope you feel some extra love and blessings from me.
A fun holiday is a great excuse to spend time with my favorite people in the world.
Remember the most important reasons for Easter: new life, joy, and chocolate!
Here's some important advice for Easter. Keep your eyes open and look for anything that is colorful and round.
Let's celebrate the miracle of Easter!
My favorite way to celebrate Easter is with you and a bunch of candy.
The Easter bunny is hopping… no, he's hoping you have a wonderful Easter.
Have a fun time celebrating the best holiday in April!
Friends like you make Easter an even brighter holiday than it already is.
I hope your Easter is surprisingly fun and yummy.
Here's an Easter equation for you: (Calories burned looking for eggs) = (Calories consumed in candy)
You are the cutest little Easter bunny I know.
Here are the directions for a happy Easter: 1. Find eggs 2. Open eggs 3. Eat the treats.
Don't forget to take a look at our special Easter pop up cards!