A magical time of year is coming again, likely bells, stars, evergreen trees or Santa Claus, gift-giving is a popular Christmas tradition. For centuries, it has become a symbol of love, showing how you care about the recipient. However, finding the perfect present takes a lot of your time and effort, no matter who you're shopping for. To help you spend your precious time while keeping up with the trend this season, Charmpop would like to introduce the stunning Christmas Pop Up Cards, which is definitely the most amazing gift idea for the biggest holidays of 2022.
Snowman Pop Up Card
The Snowman has been known as one of the most prominent symbols on Christmas Day and brings smiles to our faces. Taking these ideas as inspiration, we have created this wonderful Snowman 3D card design as a way to remind you of your favorite memories of Christmas past.
The Snowman Pop Up Card design will bring a wonderful winter holiday and surprise any lucky recipient. We hope this product could become a simple delicate Christmas Pop Up Card to get you in a festive mood.
Christmas Gnome Pop Up Card
Gnomes are known as people of small stature with the belief that attractive good luck into our life and creates a perfect shield from negative energy and influences. Because of the magical powers in the Gnome, they will not only bring joy and laughter to all receivers, but also protect them from harm. We took these as main inspiration to create this gorgeous Christmas Pop Up Card. Send out warm wishes to your friends, family and co-workers.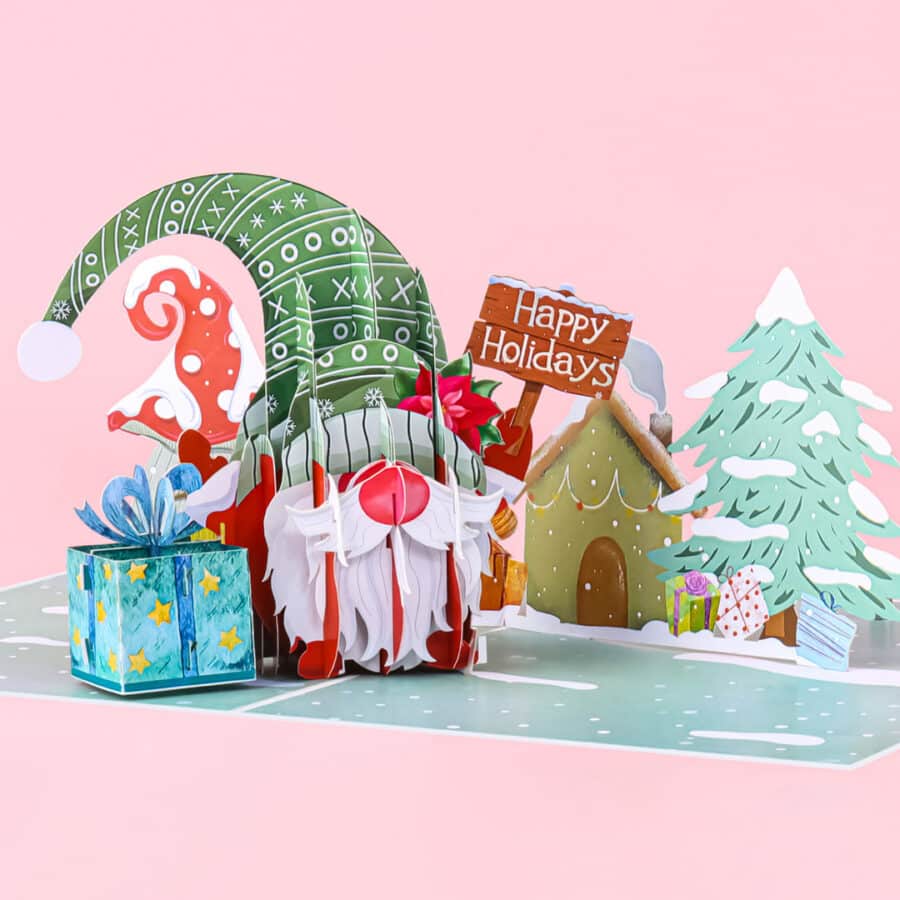 Christmas Jar Pop Up Card
A lovely tradition during the Christmas holiday is collecting spare change all year long and giving it anonymously with the belief that they will bless others and create cherished holiday memories with their family. Sometimes a unique small Christmas Pop-up card with a meaningful message inside will make gift-giving more memorable than those fancy goodies. Taking this as an inspiration, we came up with this design to capture the festive season for Xmas lovers. Our craftsmen have carefully designed the layers and layers of the pop-up to make the sculptures look so vibrant and bring great excitement to the receivers.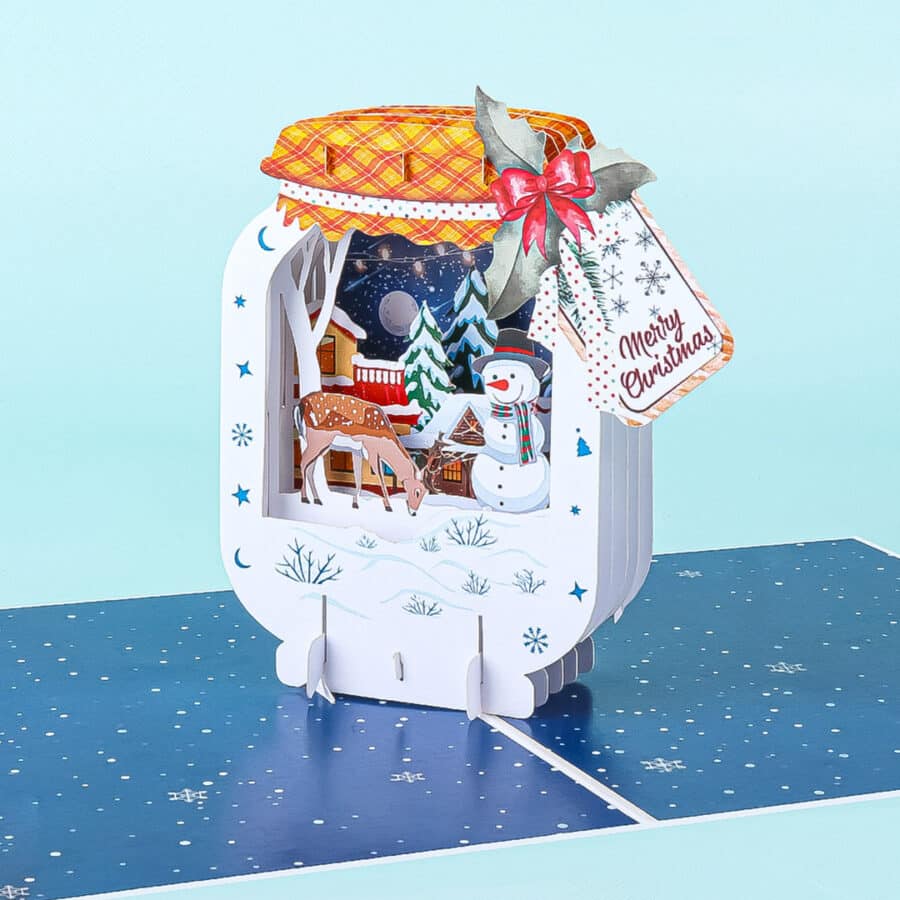 Happy Holidays Globe Pop Up Card
Out of many Christmas decorations, a beautiful Christmas globe is most preferred by many. We all enjoy shaking the ball and watching the flakes fall down slowly through the water, only to imagine living in the world inside the globe. With the symbol of happiness, wonderful Happy Holidays Globe Pop Up Cards are created with Christmas icons added to capture the whole vibe of the holiday season. We hope with this adorable pop up card, you will perfectly surprise any recipient.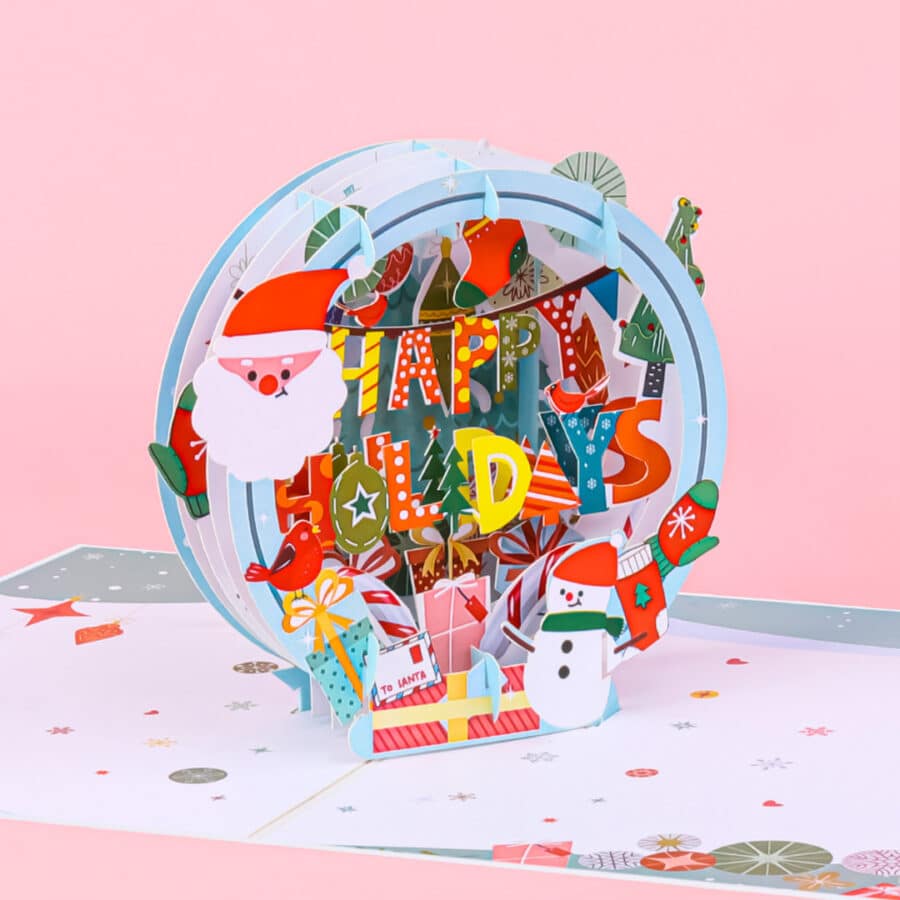 Hope our lovely suggestion will partly help you welcome a non-headache Christmas season.