Christmas is coming soon and we all know it is a perfect time of celebration, relaxation and gift giving. Choosing meaningful Christmas presents for your beloved ones might be stressful and anxious. For that reason, we are so happy to introduce our best-selling Christmas pop up cards to not only help you save a great deal of time and effort but also strengthen the relationship between you and the recipients.
1.Christmas Heart Pop Up Card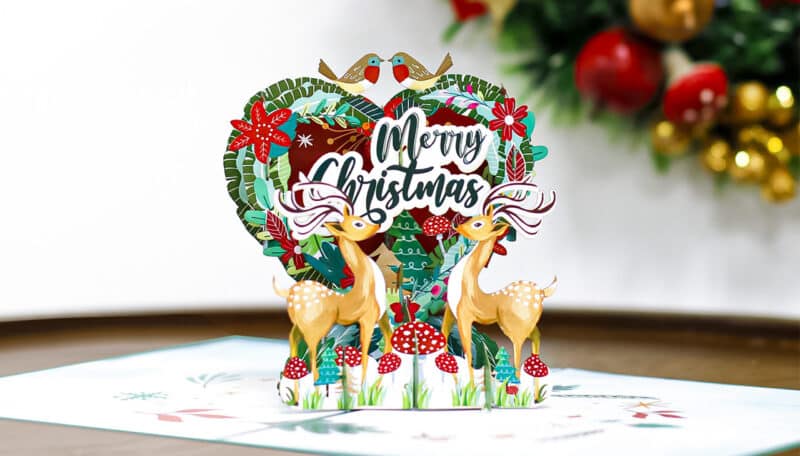 The inspirations of Christmas Heart Pop Up Card come from the joy and warmth that the holiday season brings. It captures the spirit of giving and spreading love to others, reminding us of the importance of cherishing our loved ones during this special time of year. The intricate design and attention to detail in the card reflect the beauty and magic that surrounds Christmas, making it a perfect way to convey heartfelt wishes and greetings.
2.Santa Express Pop Up Card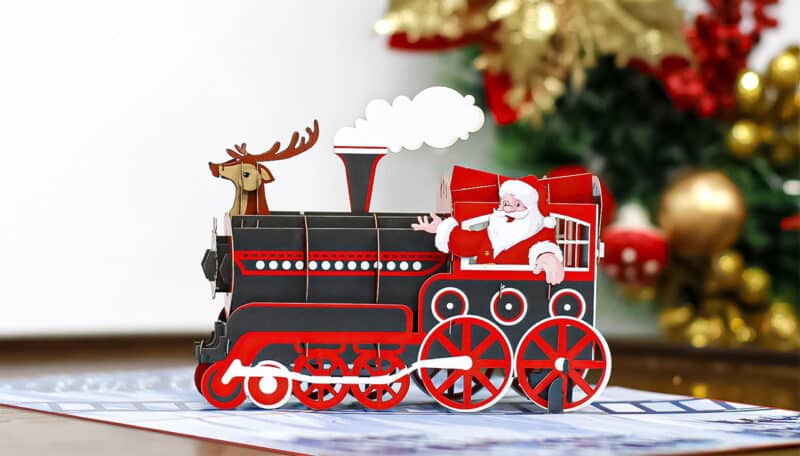 The express train to the North Pole has long been one of the most iconic images when talking about Christmas. It has been mentioned many times in literature, movies, and songs. That's why we have decided to create the Santa Express Pop Up Card. This card creates a festive atmosphere with Santa Claus welcoming us to get on the train with his arms wide-opened. It evokes feelings of warmth, excitement, and holiday cheer, making it perfect for Christmas celebrations and greetings.
3.Christmas Tree Pop Up Card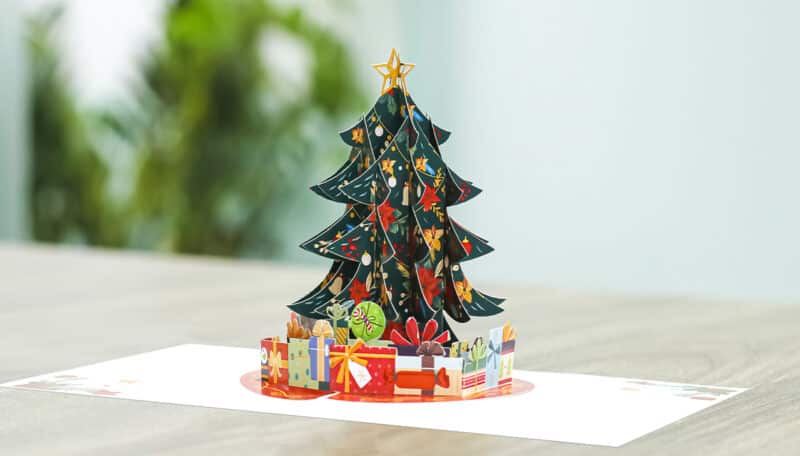 People have celebrated Christmas with pine trees for ages. According to ancient beliefs, the pine tree symbolizes life. The Christmas trees symbolize strength to overcome obstacles and evil spirits, bringing prosperity to all. That is why we still use this image to provide you with a comfortable and familiar ambiance. It will trigger your unforgettable childhood memory and definitely bring wonderful holiday joy and surprise to any lucky recipient.
4.Christmas Flower Basket Pop Up Card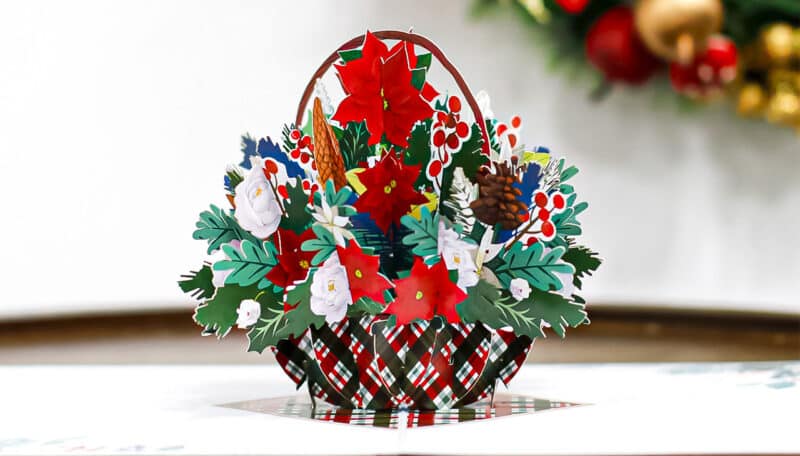 Giving flowers to show your love and affection for your beloved ones never gets old, especially on Christmas. For centuries, the Poinsettia has symbolized the Christmas season and the miracles it celebrates while the Peony has represented longevity, luck, and adoration. If you want to brighten up someone's home during winter and fill it with cheer, giving them a stunning 3D flower basket card would be a perfect idea. With these meanings, we also would love to spread love and gratitude through our mixed flowers pop-up card, especially to your loved ones.
5.Christmas Vintage Trailer Pop Up Card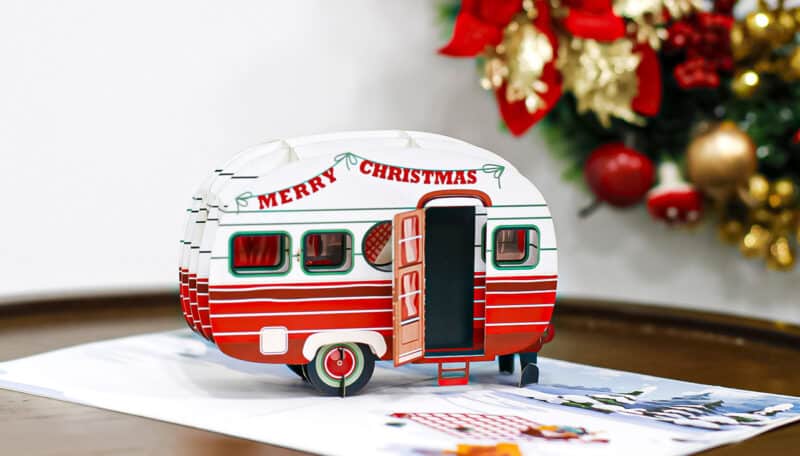 An ideal Christmas holiday is not simply associated with warm bonfires, big pine trees, or loads of gifts. Deep down, the most important thing to make a perfect holiday is that we are together, wherever we are. We take this inspiration to create this beautiful Christmas Vintage Trailer Pop-Up Card that gives you a new experience on how to celebrate Christmas not only in a special, adventurous way but also cozy and gets you in a festive mood.
6.Christmas Bear Pop Up Card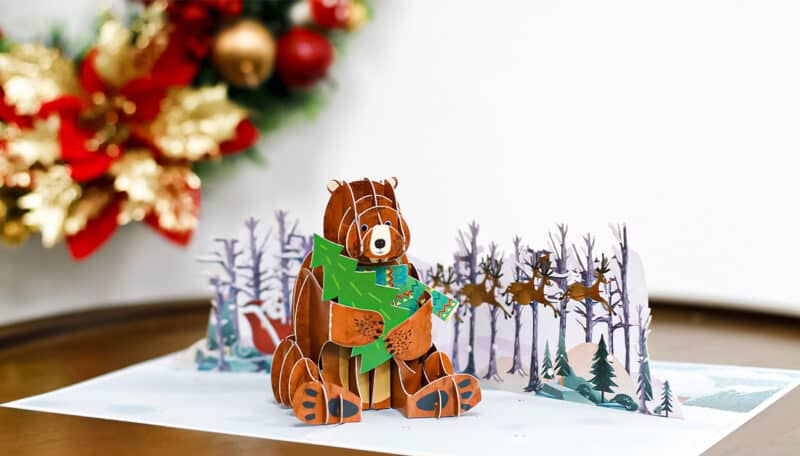 In fairy tales, bears symbolize love, warmth, and reunion. A bear family helps a lost little girl and they become close friends. To children, animals represent love and kindness. This holiday season, we want the bear family to have a happy Christmas, like us. Everyone has the right to enjoy a festive atmosphere.
Taking these as main inspiration, we created this 3D Christmas card to evoke happy childhood memories and bring you joy during the holidays. Christmas Bear Pop Up Card is also a cute Christmas gift for your kids or those who love animals
7.Christmas House Pop Up Card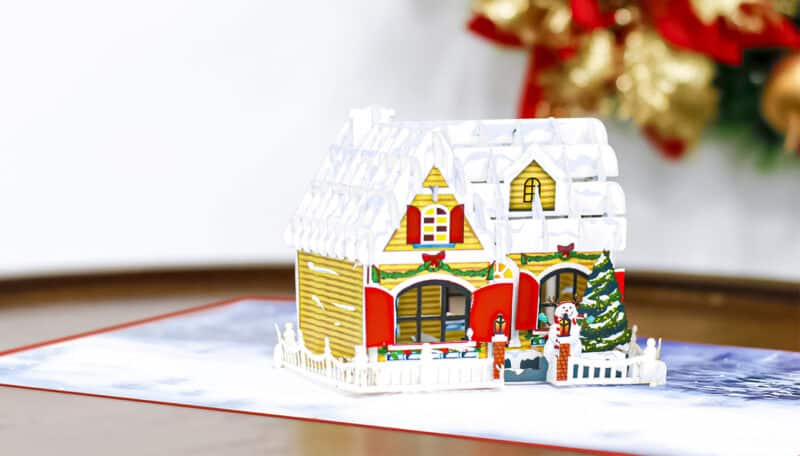 In addition to its visually stunning design, the Christmas house pop-up card holds a deeper meaning. It serves as a tangible expression of love and holiday wishes, reminding both the sender and the recipient of the joy of giving and the importance of connecting with loved ones during this festive time. In a world dominated by digital communication, receiving a physical card has become a rare and cherished experience, making the opening of the Christmas house pop-up card even more special.
8.Santa Sleigh Pop Up Card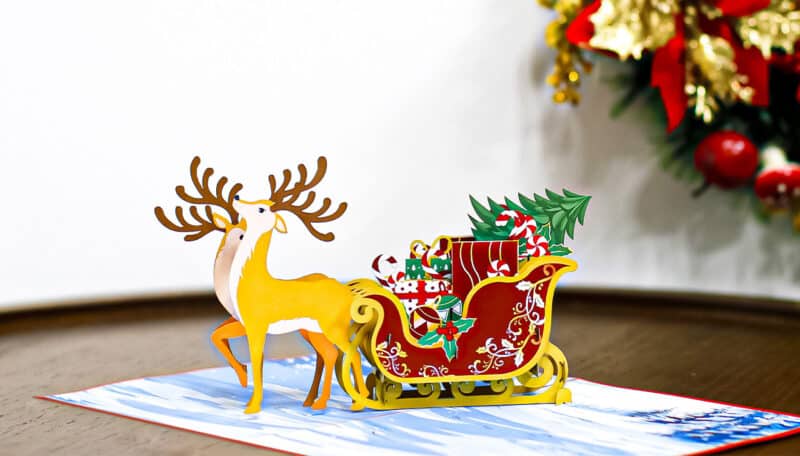 The Santa sleigh has long been associated with Christmas and has been loved by many children as well as adults. In Western cultures, Santa Claus is believed to travel the world on Christmas Eve delivering gifts in a sleigh pulled by flying reindeer. Moreover, the image of Santa sleigh represents magic, hope, and joy as it's a sign of wishes are on the way coming to us. Because of these meanings, we have decided to create Santa Sleigh Pop Up Card with the desire to spread joy and hope to your friends and family on your behalf.
If you want to find our more stunning Christmas pop up cards for upcoming winter festival, don't hesitate to visit our Christmas 3d greeting cards collection here