This month, CharmPop has launched our March New-in Pop-up cards Collection. We have received many requests of creating a collection on Sydney theme and it is finally here! The collection includes the trendiest pop up cards of Australian themes will sure please all of you guys. The collection is created especially for all fans of Sydney city, tourists visiting or about to visit Australia…
1, Sydney girl pop up card

Sydney is loud, uncompromising and in your face. Fireworks displays are more dazzling here, heels are higher, bodies more buffed, starlets shinier, and city lights glitzier. There was always something thrilling going on somewhere, and if you turned the right corner, you could be part of it.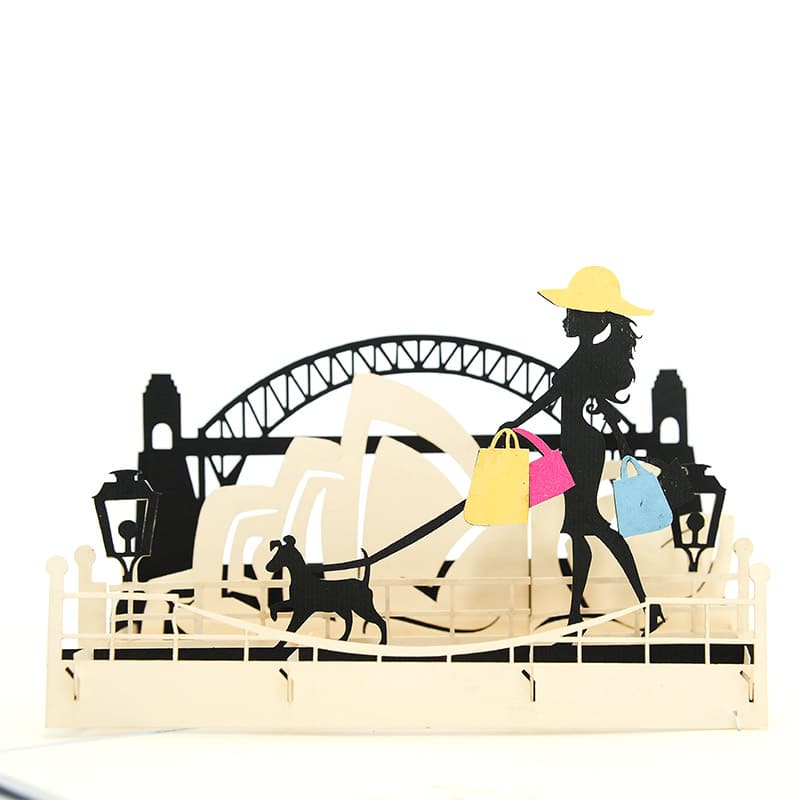 This urbanized beauty of Sydney is what this Sydney girl pop up card is all about. Open this handmade Kirigami card, you will find a modern Sydney girl enjoying her shopping trip in the city. Together with all the signature landmarks of Sydney such as: Sydney Harbour Bridge or Sydney Opera House, the 3D card tells its own story of a bursting and hustling Sydney.
We hope Urban Sydney pop up card could become a stunning pop-up gift for anyone loves this glitzy side of Sydney city.
2. Sydney Trip pop up card

Defined just as much by its rugged Pacific coastline as its exquisite harbor, Sydney relies on its coastal setting to replenish its reserves of charm. The harbor praises the city's two halves far enough apart to reveal an abundance of pearls. There are always attractive activities you can join while visiting Sydney: Spend the day at the Sydney Opera House, Climb to the top of the Sydney Harbour Bridge or Dine at the innovative restaurants…
We brought all Sydney's specialties into this small card just for you. The card reminisces that great moment of a tourist girl while enjoying her best moment observing the beauty of the harbor. The extraordinary Sydney Opera House and the spectacular Sydney Harbour Bridge are recaptured perfectly into just a small 3D card. We hope with Sidney Trip pop up card you will perfectly surprise any recipients.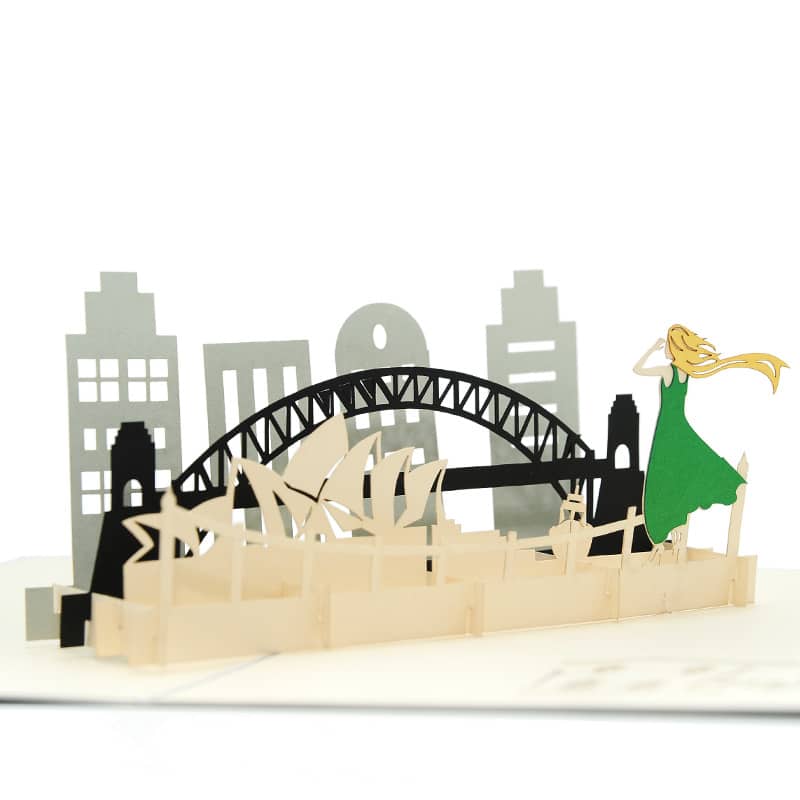 3. Boxing kangaroo pop up card

The boxing kangaroo is a national symbol of Australia, frequently seen in popular culture. The symbol is often displayed prominently by Australian spectators at sporting events, such as at cricket, tennis, basketball and soccer matches, and at the Commonwealth and Olympic Games.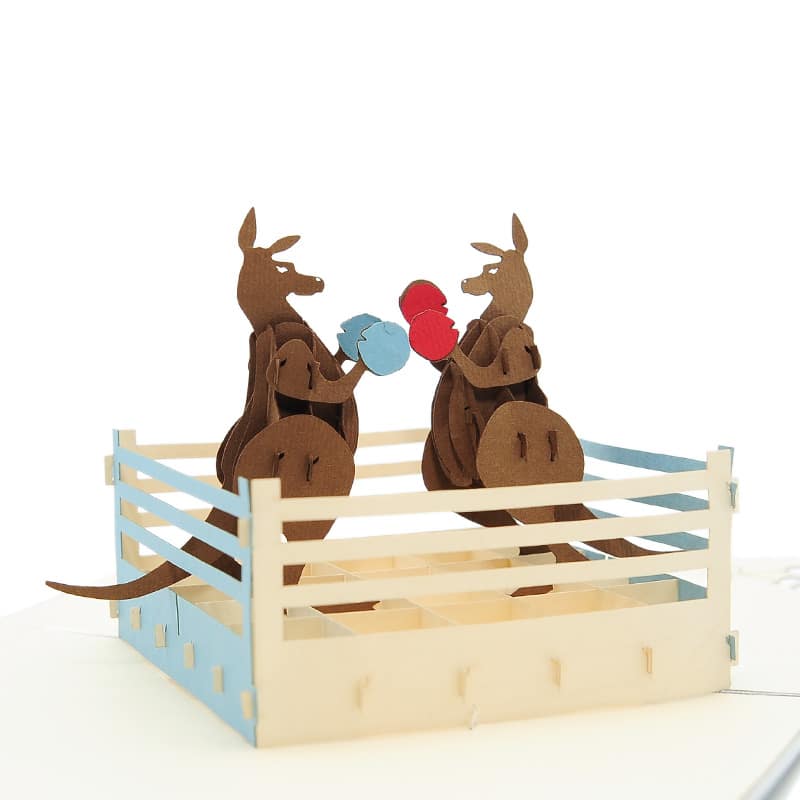 The card reminisces this famous symbol of Australia and is suitable to become a postcard or souvenir after a visiting trip to Australia.
4. Kangaroo pop up card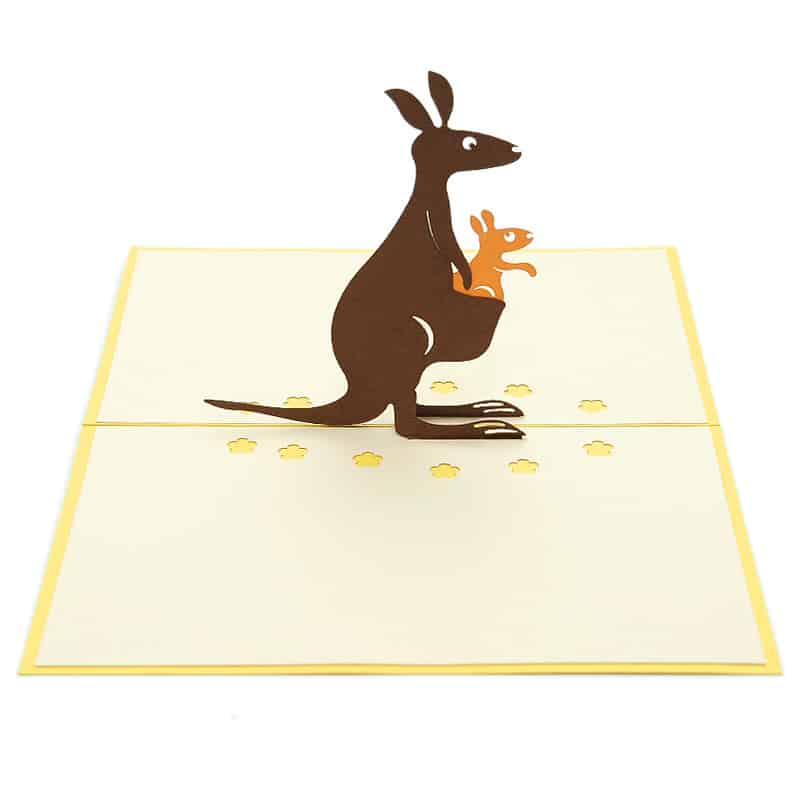 The kangaroo is an unofficial symbol of Australia and appears as an emblem on the Australian coat of arms and on some of its currency and is used by some of Australia's well-known organizations, including Qantas and the Royal Australian Air Force. The kangaroo is important to both Australian culture and the national image, and consequently, there are numerous popular culture references.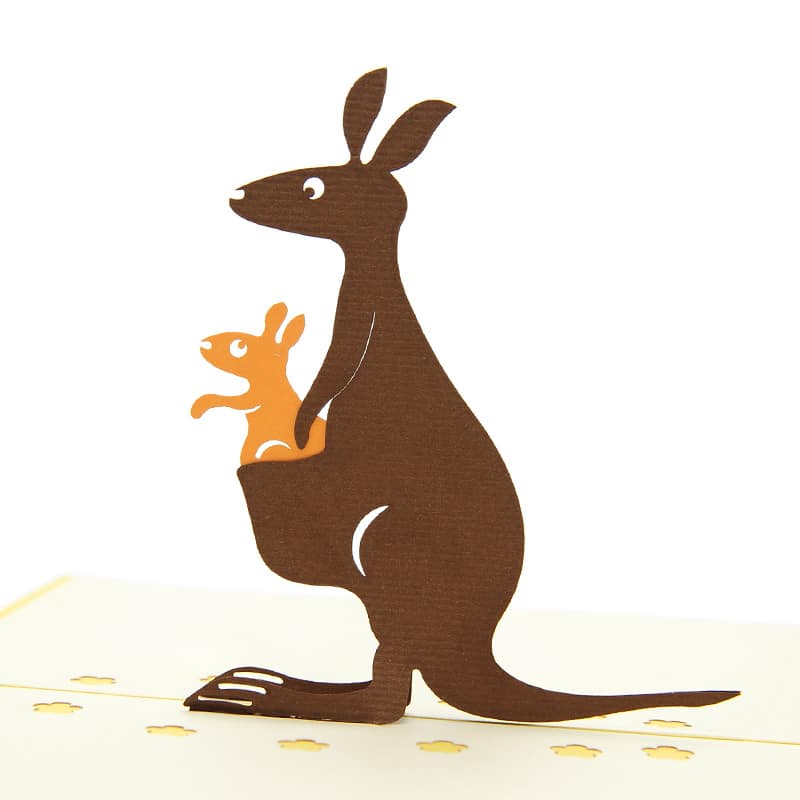 The card reminisces this famous symbol of Australia, together with our two mentioned pop up cards, formed our latest Australia pop up card collection. We hope that this mini collection of us could become a perfect pop-up gift to cherish the beauty of Australia on any occasions.