Housewarming ceremony is a ceremony or a party which is hosted when someone moves in to a new residence. It is a big reason to celebrate with friends and family. Usually, this ceremony is held within the 10 days of shifting into the new home.Here, in this post, you are going to read the best and exclusive housewarming greeting cards.
CharmPop, as a pop up card manufacturer and Christmas 3D card wholesaler, always give our best to bring the best pop up card ideas into the best 3D card designs! All of our 3D card designs are created with exceptional attention to the smallest detail.
If someone near or dear in your social or personal circle has invited you for a housewarming ceremony or is holding a housewarming ceremony, then you should not miss a chance to congratulate him/her and send him/her good luck wishes with a beautiful and creative pop up card. After-all moving to a new home to dwell is a matter of celebration and joy.
House Warming Pop Up Card has an orange cover that features a house moving. Opening the card, you will discover a sculpture of a Laser-cut and hand- assembled house. It's a very cool blue house with a stylish white fence on the front.
It sure is a well thought and the perfect gift for anyone, especially who just have a new cozy shelter of their own. Share the New Home 3D Card with a thoughtful note and you've got the perfect 3D card for your business partner, family, or anyone who has just moved into a new house. The card could also be designed into an invitation to a home-warming party.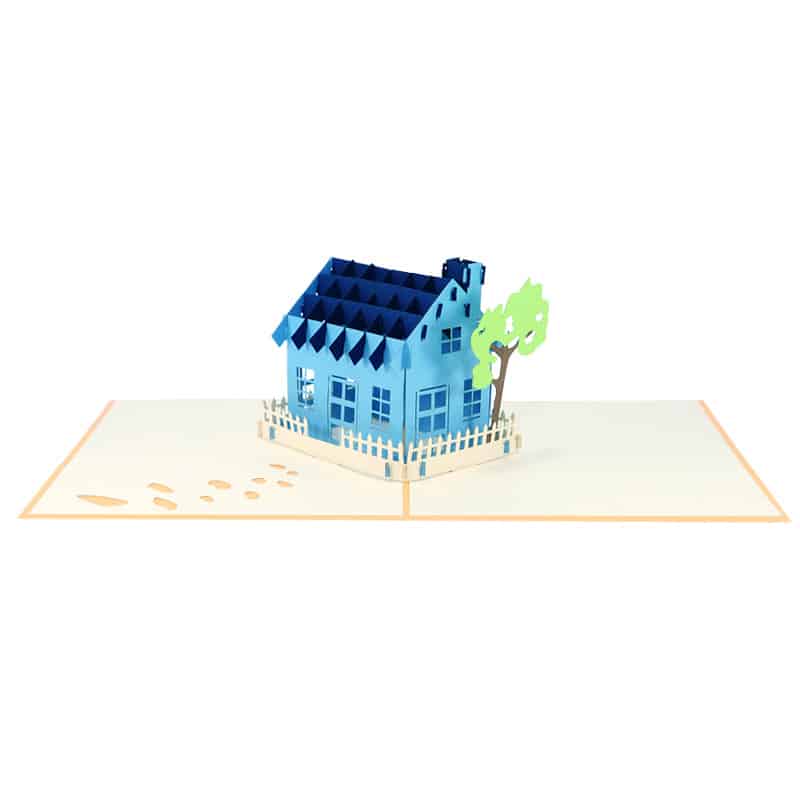 Pineapple pop up card has a green cover with a beautiful pineapple pattern. The image reveals just enough of the surprise inside. Open the card and you will find a stunning three-dimensional sculpture of a simple but sophisticated pineapple. We paid full attention to even smallest detail like coming up with complementing colors to make the Pop-up become the most lively.
The pineapple is recognized as a traditional expression of "welcome" throughout the South and in areas along the Eastern Seaboard. It symbolizes those intangible assets we appreciate in a home: warmth, welcome, friendship, and hospitality. Hanging by the front door of any Hawaii homes was a hand-painted plaque of a pineapple with the word "Welcome" below it. The card will be just perfect for Housewarming party.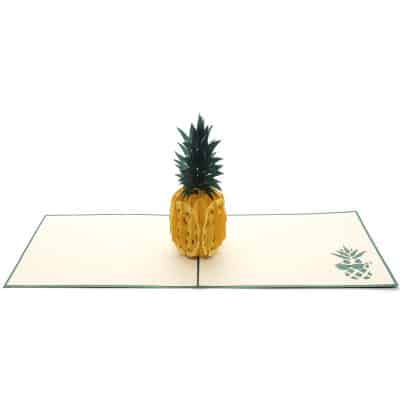 Looking for gingerbread house ideas to spark your imagination? Build a child's dream house—this little gingerbread farmhouse couldn't be cuter. This Christmas, more than sugarplums will dance in their heads. Gingerbread house pop up card with glowing candy windows are certain to inspire sweet imaginings.
The card will be perfect for any winter housewarming parties.
5. Tulips pop up card
Flowers are suitable for every occasions. Bring about a twist to your usual congratulations on the new house owners. This greeting card filled with adorable flower illustrations will help you translate the most sincere wishing. Sending across your thoughtful gestures are just about possible with this one!