Now it won't be long before Christmas. It is high time to think about Christmas cards. Christmas a time for celebration, of lights, of giving. Let our Best seller Christmas pop up cards remind you of the peace and joy the world experiences on this very special day. CharmPop, as a pop up card manufacturer and Christmas 3D card wholesaler, always give our best to bring the best pop up card ideas into the best 3D card designs! All of our 3D card designs are created with exceptional attention to the smallest detail. Our enchanting products make Christmas spirit come alive and guarantee a magical holiday season.
Holiday Reindeer Pop Up Card has a red cover with a cool illustration of a reindeer. The image reveals a clue of what awaits inside. Upon opening the card and you will find a meticulously three-dimensional paper sculpture of a cute reindeer sitting next to Christmas gift boxes.
Xmas Reindeer pop up card is an unforgettable Christmas gift in this year. This Christmas card is sure to delight holiday lovers and everyone who loves Christmas. Send with some your personalized messages to your loved, surely they will keep them forever.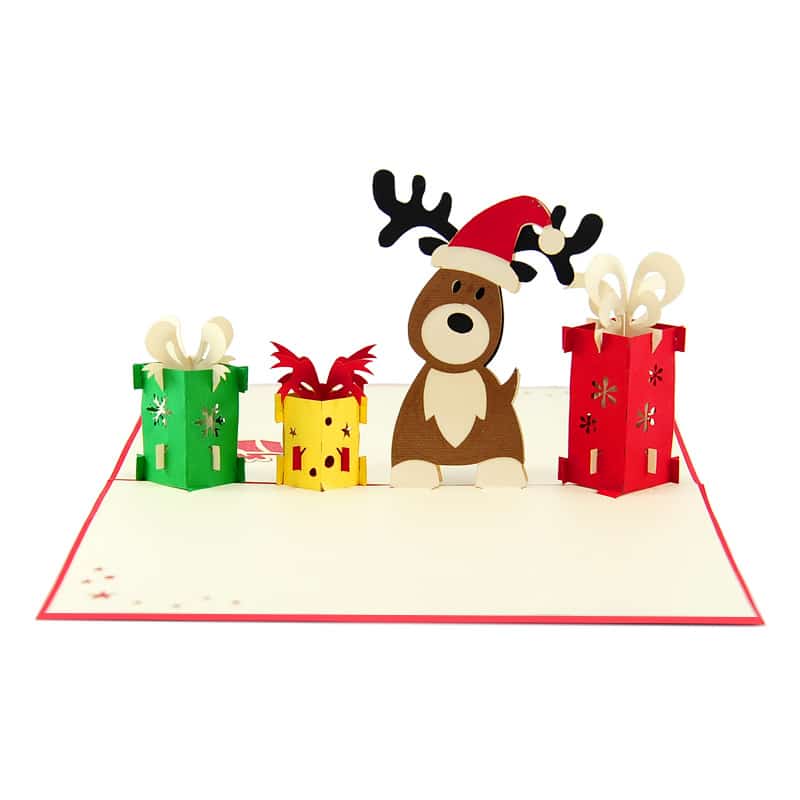 Christmas Me to You Pop Up Card has a red cover with a happy bear pattern. The image reveals just enough of the surprise inside. Open the card and you will find a stunning three-dimensional sculpture of a lovely tatty teddy bear wearing a nice Xmas hat and holding a beautiful Christmas gift box.
Tatty Teddy's timeless illustrations have been popular with young and old alike, communicating warmth and happiness, and touching people's lives all over the globe, in all situations. It could be either a great gift for children or a love gift for any couples on any seasons. The lovable, vulnerable and gentle characteristics of Tatty Teddy will bring the brightest smile on your lover's face.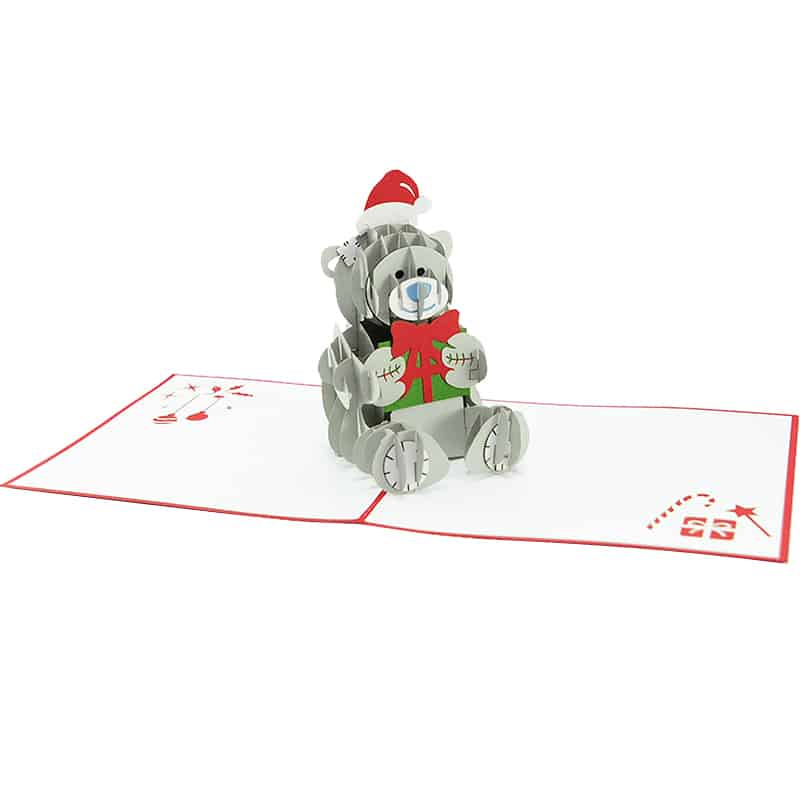 Looking for gingerbread house ideas to spark your imagination? Build a child's dream house—this little gingerbread farmhouse couldn't be cuter. This Christmas, more than sugarplums will dance in their heads. Gingerbread house pop up card with glowing candy windows are certain to inspire sweet imaginings
It's the year of the flamingo! There are tons of creative ideas to bring this gorgeous bird home on this holiday. Why not keep yourself updated with the latest trend of Xmas Flamingo? The card is so girly with a pink cover and a beautiful flamingo celebrating Christmas…will make a perfect gift for just any girls.
This Christmas pop up card for her will bring many surprises to women on this holiday
We're so close to Christmas now, you can smell the cinnamon and ginger already! Gingerbread decorations make for unforgettable holiday moments. Expand the tradition beyond houses with a country-approved gingerbread pickup train. The fun Christmas friends chilling on a rolling candy train will spread the holiday spirit to anyone.
Inspired simply by winter holiday, the card reminisces those winter night when children trying so hard to wait up for the Santa to visit. This Christmas card will bring a wonderful holiday joy and surprise to any lucky recipient.
Christmas tree pop up card has a red cover with a beautiful illustration of a Christmas pine tree. The image reveals a clue of what will pop up inside. Upon opening the card and you will find a stylish well decorated Christmas tree.
10. Santa side car pop up card
Don't you ever wonder what if the reindeer get sick on Xmas? This could be an alternative suggestion for Mr.Santa! This 3D card is simply a unique choice for Christmas. We hope this product could become a simple delicate pop up gift to get you in a festive mood