Best Dad Ever Pop Up Card for Father's Day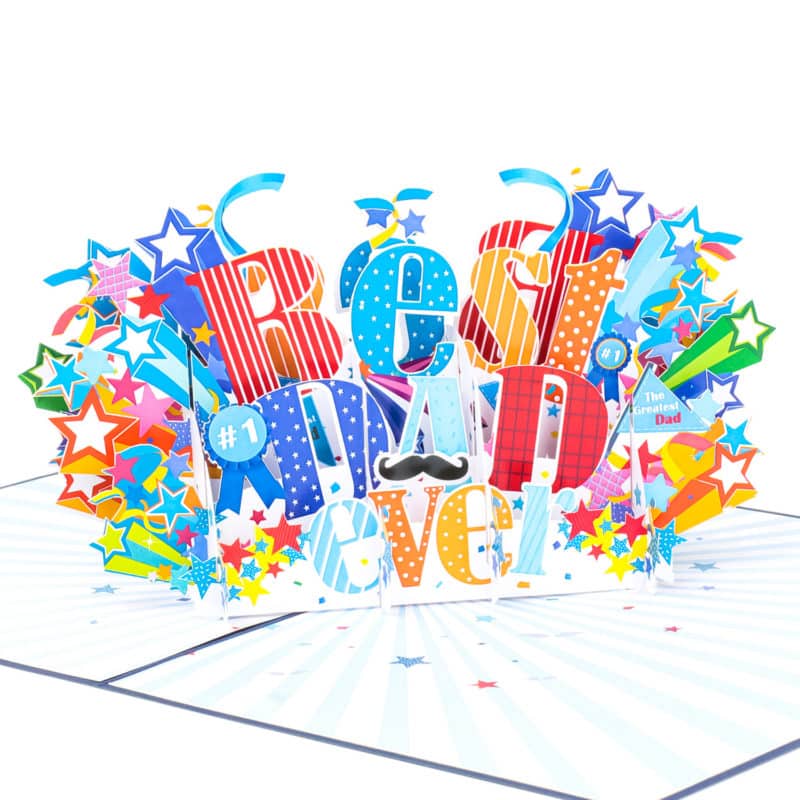 Father's Day is definitely a special occasion to appreciate your father for what they have ever given to your life. Moreover, it is also an amazing event in the year to mark. This day acknowledges to celebrate the contribution of all fathers to the whole society in general.
On this day, many people send countless gifts to their own fathers, including sports items, electronic gadgets, outdoor cooking supplies, tool for household maintenance. However, it can be just simply meaningful Father's Day 3D pop up cards.
Therefore, CharmPop has come up with this colorful Best DAD Ever Pop Up card design. There is no need for over-dramatic idea. The moment when the sculpture pops up is enough to trigger excitement. Undoubtedly, your father will feel surprised and happy. Especially when he finds out that there is a colorful Best DAD Ever three-dimensional typography inside with beautiful stars and ribbons decorated around.
Best Dad Ever Pop Up Card Manufacture
In addition, our professional skilled craftsmen carefully designed layers and layers of the pop-up to make the sculptures look so vibrant. Therefore, it will bring weeks of enjoyment to your own father. Furthermore, we also use eco-friendly premium card paper which is is laser cut by precision machines and hand assembled. Additonally, CharmPop used hard and high-quality paper which is not easy to tear and damage. Not to mention, our pop up cards will not fade easily so they can be stored for a long time.
We hope with this simple card, you will not only perfectly surprise your father but also can give him unforgettable moments on this special day. Moreover, this 3D pop up card is also suitable for other special occasions such as Father's birthday, anniversary, Christmas or Happy New Year