Love is the most wonderful of all feelings in this world. It's Valentine's Day 2018 and what could be a better time to let your dear ones know that you love them. Make them feel special by sending the beautiful 3D kirigami greeting cards of loving words.
CharmPop, as a pop up card manufacturer and Christmas 3D card wholesaler, always give our best to bring the best pop up card ideas into the best 3D card designs! All of our 3D card designs are created with exceptional attention to the smallest detail.
Love knows no bounds with pop up Valentine's Day cards from CharmPop. Find the perfect pick for all the loved ones in your life. From cards with a blooming bouquet of roses for your wife to a handmade Pirate cupcake card for your dad, we have a card for every sentiment. Let someone know you love them more than just a box of chocolate. Send a 3D handmade love greeting cards expressing your admiration. Toast your significant other with a our amazing inspired Kirigami cards.
Strawberry Cupcake pop up card
Strawberry cupcakes pop up card has a red cover that has a cupcake pattern. The image reveals just enough of the literally "Sweet" surprise inside. Open the card and you will find a stunning three-dimensional sculpture of so cute cupcakes decorated with a cute strawberry.
We always leave the card blank so that you can personalize your own words.
A cute cupcake is a beautiful choice for your lovers. No matter what flavor frosting or cake, or what ages the recipients, cupcakes are still an all-time love gift. Our craftsmen have carefully design layers and layers of the pop-up to make the sculptures look as yummy as the real cakes. We hope that cute moment will help you feel warm and happy on your birthday.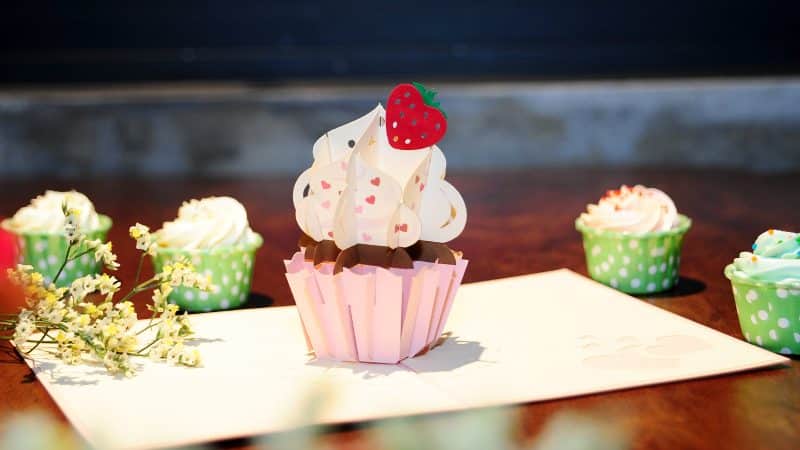 This sweet card shines just like the happy couple's love on their special day. Adorable love birds in an intricate laser-cut heart accented flower bush is a simple yet sweet inspiration for us.
 Wish your loved ones many more years of happy surprises and new adventures and remind them of sweet things will happen in their lives. The card is an amazing paper gift for Valentines Day, Anniversary or Birthday.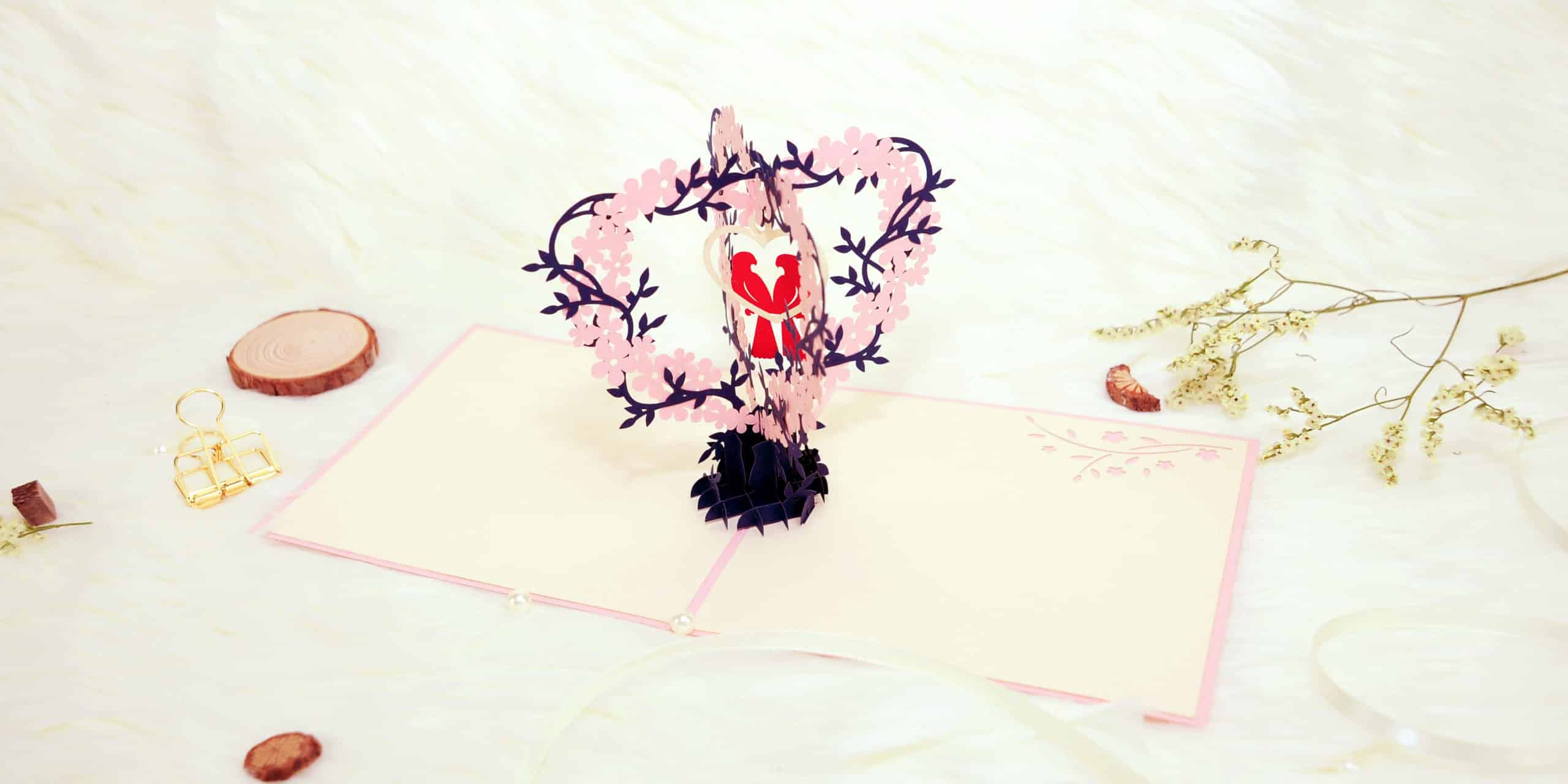 A red rose is an unmistakable expression of love. Red roses convey deep emotions – be it love, longing or desire. Red Roses can also be used to convey respect, admiration or devotion. No needs for too dramatic idea, the moment when the sculpture pops up is enough to trigger excitement..
We hope this flower pop up card could become a simple delicate gift for any everyday occasion. Suitable for business, friends, lover or family. This would be a class.
Love Bear Pop Up Card
A cute teddy bear will never go wrong in any occasions, especially Valentines Day. While Teddy bears are among the most iconic gifts for children, They are often given to adults to signify love, congratulations, or sympathy. Thus, we believe each card tells a different story depending on how you give the card to the receiver. It could be either a great gift for children or a love gift for any couples. Our craftsmen have carefully design layers and layers of the pop-up to make the sculptures look so vibrant and bring great excitement to receivers.
Who could say "No" to that face? Ah, love is in the air, and a Valentine's Day gift from Giant Teddy makes the day extra-special. Make a the grand romantic gesture for your sweetheart with our paper handmade 3D teddy bear holding a cute heart.